M. Joana Lauterbock McGrath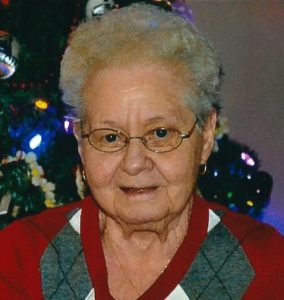 Joana Lauterbock McGrath, 83, of (North) Philipsburg, died Thursday, August 4, 2016, at her residence.
Born March 6, 1933, in Harrisburg, Joana was a daughter of the late M. Elmer and Loretta C. (Nolan) Frank.
Joana was of the Protestant faith.
She was first employed with the former General Cigar, RD Philipsburg. She was then employed as a dietary supervisor with the former Philipsburg State General Hospital until her retirement.
Joana was married on January 29, 1992, in Philipsburg, to James L. McGrath, who preceded her in death on August 11, 1996.
Joana was also preceded in death by one son, Mark Allen Lauterbock; one sister, Joyce Fleck; one brother, Robert Frank; and her ex-husband, Ernest Lauterbock.
She is survived by one daughter, Nancy Twoey and her husband, Bill, with whom she resided in (North) Philipsburg; one son, Wayne Lauterbock and his wife, Liz, of Eustis, Florida; one sister, Janet (Frank) Ianaro and her husband, Joseph, of Windham, Ohio;  five grandchildren: Andrea (Twoey) Tamarazio and her husband, Joseph, of Cheektowaga, New York; Angela (Twoey) Coyne and her husband, Joey, of Osceola Mills; Hunter Lauterbock and his wife, Kellie, of Waterford, Texas; Luke Lauterbock, of Altamonte Springs, Florida; and Chad Montgomery and his wife, Stacey, of Castle Rock, Colorado; five great-grandchildren: Noah Twoey and Ashlee Coyne, both of Osceola Mills; Ryley, Cody and Ashlan Montgomery, all of Castle Rock, Colorado; and number of nieces and nephews.
There will be no public visitation.
A private funeral service for Joana will be held at the Beezer-Heath Funeral Home, 719 E. Spruce Street, Philipsburg, with Pastor Michelle R. Bodle, Officiating.
Interment will be in Philipsburg Cemetery, Philipsburg.
Memorial contributions may be made in Joana's memory to the Grace United Methodist Church, 912 E. Pine Street, Philipsburg, PA  16866.
Family and friends may share memories and sign the online guestbook at www.beezerheathfh.com