Kathryn Wilson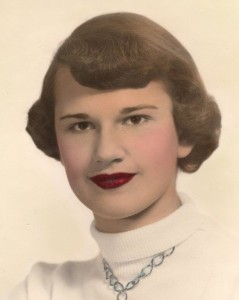 Kathryn Wilson, 80, of Philipsburg died Wednesday, February 17, 2016 at Windy Hill Village, P.S.L., Philipsburg.
Born on April 29, 1935 in Philipsburg, she was a daughter of the late Vasilios and Panagiota Liakopoulos.
Mrs. Wilson was a member of St. Paul 's Episcopal Church, Philipsburg and was formerly a member of the Philipsburg Country Club. She enjoyed spending time with her children and especially her grandchildren.
She was one of the founders and worked at the Philipsburg Day Care from 1974 until her retirement in the 1990's.
She was a 1953 graduate of the Philipsburg High School and had attended Penn State.
In July of 1953 in Cumberland, Maryland , she married John A Wilson, who survives at home.
In addition to her parents, she was preceded in death by a daughter, Ann Kay Wilson.
Mrs. Wilson is survived by a daughter, Wendy Semuskie and her husband, Greg of Gaithersburg, Maryland; two sons, Greg A. Wilson and his wife, Christine of Philipsburg, and Christopher W. Wilson and his wife, Stacey of Middletown, Maryland; two sisters, Peggy Lyon and her husband, Charles of Findley, Ohio, and Ethel Feltham and her husband, Frank of Georgia; seven grandchildren, Jessie Wilson of McKeesport; Lauren Willis and her husband, Mike of Philipsburg; Bethany Wilson and her companion, Tim Rioux of Boston, Mass.; Elliott, Sam, Kathryn, and Stanley Semuskie, all of Gaithersburg, Maryland; a great-grandson, Bo Winfield Willis of Philipsburg; and several nieces and nephews.
Funeral services will be held Saturday at 12 p.m. at St. Paul's Episcopal Church, Philipsburg, with Rev.
William R. Walker, officiating. Interment will be at Philipsburg Cemetery.
Friends will be received on Friday, February 19, 2016 from 6 – 8 p.m. at the Beezer-Heath Funeral Home, Philipsburg and from 11 a.m.- 12 p.m. at church on Saturday.
Contributions in memory of Mrs. Wilson may be made to St. Paul's Episcopal Church, P.O. Box 170, Philipsburg, Pennsylvania 16866 or to the National MS Society, P.O. Box 4527, New York, New York 10163.
Family and friends may sign the guestbook and share memories at beezerheathfh .com