John A. Wilson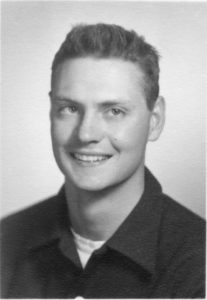 John A. Wilson, 82, of Philipsburg, died Tuesday, August 30, 2016, at Geisinger Medical Center, Danville.
Born October 4, 1933, in Philipsburg, he was a son of the late Richard and Ann (Hollenback) Wilson.
John was a 1951 graduate of the former Philipsburg High School. He was a talented baseball player and one of the best pitchers to come out of the Philipsburg area. His prowess on the mound led him to be drafted by the Pittsburgh Pirates. They assigned him to the Bristol Twins, (then) a Class D, Appalachian League affiliate of Pittsburgh.
However, John's professional baseball career would be cut short as he was drafted into
the army and would serve as a Military Policeman during the Korean War era.
John was married in July, 1953, to the former Kathryn Liakopoulos, who preceded him in death on February 17, 2016.
After his service in the army, John enrolled and graduated from the Altoona Business School, Altoona. He would then be employed as a CPA with Walter Hopkins & Company, Philipsburg, until his retirement.
John enjoyed sports and he was an avid golfer throughout his life. He was a member of the former Philipsburg Country Club for over forty years. He was currently a member of the B.P.O. Elks and Country Club, #1173, Philipsburg.
In addition to his parents and wife, Kathryn, John was preceded in death by a daughter, Ann Kay Wilson.
John is survived by one daughter, Wendy Semuskie and her husband, Greg, of Gaithersburg, Maryland; two sons, Gregory A. Wilson and his wife, Christine, of Philipsburg, and Christopher W. Wilson and his wife, Stacey, of Middletown, Maryland; one brother, Richard R. "Moe" Wilson and his wife, Barbara, of State College; seven grandchildren: Jesse Wilson of McKeesport; Lauren Willis and her husband, Mike of Philipsburg; Bethany Wilson and her companion, Tim Rioux of Boston, Massachusetts; Elliott, Sam, Kathryn, and Stanley Semuskie, all of Gaithersburg, Maryland; a great-grandson, Bo Winfield Willis of Philipsburg; and several nieces and nephews.
The funeral service will be held Sunday, September 4, 2016, at 4:00 pm at the Beezer-Heath Funeral Home, 719 E. Spruce Street, Philipsburg, with Pastor Noel Meyers, Officiating.
Visitation will be on Sunday, September 4, 2016, from 2 pm until the time of the service at the funeral home.
Military Honors will be accorded by the Moshannon Valley Independent Honor Guard.
Interment will be in Philipsburg Cemetery, Philipsburg.
Memorial contributions may be made in John's memory to the Rowland Theatre, 127 N. Front Street, Philipsburg, Pa  16866, or to the YMCA of Centre County, Moshannon Valley Branch, P.O. Box 426, Philipsburg, Pa  16866.
The family would like to extend their thanks to Kandee Hosterman, John's personal aide, for her many years of loyal service; and to the staff of Dayspring PCH for their care.
Family and friends may sign the online guestbook and share memories at www.beezerheathfh.com.