Thomas "Tom"  L. Watson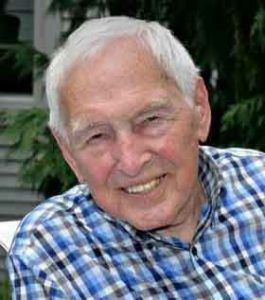 Thomas "Tom" L. Watson, 90, of Philipsburg, died Wednesday, July 19, 2017, at Windy Hill Village where he had resided for the past four years.
He was born in Philipsburg on February 21, 1927 to Clem Watson, Sr. and Susan (Lamb) Watson, both of whom preceded him in death.
He was a 1944 graduate of the former Philipsburg High School. Following graduation, Tom turned down full scholarships to Lock Haven University in football and wrestling to serve in the United States Marine Corps.
Tom was employed with a variety of occupations throughout his working career. He began working for his father in the family coal mine. He left there to operate and manage the Esso Station formerly located in the Cold Stream area of Philipsburg for the next 25 years. Tom sold this business and became employed with Penelec as a line crew driver and then worked in the operations department at their Shawville power plant.
He was currently a member of the First Presbyterian Church of Philipsburg and previously a member of the Grace United Methodist Church also of Philipsburg which was formerly the Evangelical United Brethern Church.
Besides serving his country with the United States Marine Corps, he was a member of the B.P.O. Elks & Country Club,

Lodge #1173, the American Legion, Post #437, and lifetime member of Wolf Rock Camp.
Thomas was married on December 28, 1947, at the First Presbyterian Church of Philipsburg, to the former Bette Louise Cole who preceded him in death on April 19, 2005.
He was also preceded in death by three sisters: Dorothy Owens, Esther Johnson and Betty Cieslar; and a brother, Clem Watson, Jr.
Thomas is survived by two daughters, Alicelyn (Watson) Sleber and her husband, Rick, of Harrisburg and Shelly (Watson) Clemens and her husband, Robert, of Columbia, Maryland; one son, Jeffrey Cole Watson, of Philipsburg; three granddaughters: Angielyn (Watson) Inglis, of Dallas, Texas, Christielyn Watson, of State College and Katielyn Watson, of Bellefonte; a great-granddaughter, Alyssa Peterson and a great-grandson, Micah Watson, both of State College; and numerous nieces and nephews.
A memorial service will be held Saturday, August 5, 2017, at 11:00 am at the First Presbyterian Church of Philipsburg, 509 E. Presqueisle Street, Philipsburg, with Rev. Dr. Katie Hopper officiating.
Family and friends will be received at the church on Saturday from 10:00 am until the time of the memorial service.
If persons wish to do so, memorial contributions or flowers in Thomas' memory may be sent to the church. Memorial contributions may be made to the First Presbyterian Church of Philipsburg or to the Children's Programming Fund, 509 E. Presqueisle Street, Philipsburg, Pa 16866.
The funeral arrangements are under the direction of the Beezer-Heath Funeral Home, 719 E. Spruce Street, Philipsburg.