MaryAnn E. Walter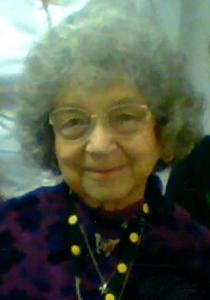 MaryAnn E. Walter, 83, of Tyrone, PA and formerly of Philipsburg, PA died Friday, September 5, 2014 at Epworth Manor in Tyrone, PA.
Born on December 9, 1930 in Wilcox, PA, she was the daughter of the late John Charles and Anna (Powley) Orolin.  She married James Darrell Walter on November 4, 1950 at Camp Atterbury, Indiana.  He preceded her in death on November 10, 2008.
She was Roman Catholic by faith.  Mrs. Walter had been a nurses aid at Windy Hill Village, Philipsburg, PA and was a co-owner/operator of the Pastry Shop in Philipsburg, PA for many years until retiring.  She was a 1948 graduate of the Wilcox High School.
In addition to her parents, and husband she was preceded in death by: two sons, James and Charles Walter; an infant granddaughter, Anne Marie Komisar; and a brother John Orolin.  She was the last of her generation.
Mrs. Walter is survived by: three daughters, Kathryn Komisar of Philipsburg, PA, Liz Conklin & her husband David of Roaring Spring, PA, and Meri Laich & her husband Kenneth of Philipsburg, PA.  She is also survived by 13 grandchildren and 8 great-grandchildren.
A funeral service will be held on Tuesday, September 9, 2014 at 2:00 p.m. at the Beezer-Heath Funeral Home, 719 E. Spruce Street, Philipsburg, PA; with Rev. William R. Walker officiating.  Burial will be at Saint Anne Cemetery in Wilcox, PA.
Visitation will be held on Tuesday, September 9, 2014 from 12:00 – 2:00 p.m. at the funeral home.
Memorial contributions may be made to: American Cancer Society, 123 Sparks Street, State College, PA 16801.
Friend may sign the guestbook at: beezerheathfh.com.