Virginia J. Vaughn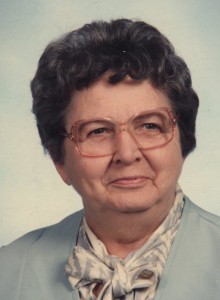 Virginia J. Vaughn, 92, of Tyrone, PA and formerly of Philipsburg, PA died Sunday, May 10, 2015 at the Epworth Manor in Tyrone, PA.
Born on June 25, 1922 in Hudson, RD Philipsburg, PA.  She was the daughter of the late Aaron and Kathryn (Rafferty) Twist.  She married Harold E. Vaughn on August 13, 1941 in Winchester, VA; he preceded her in death on March 1, 1996.
Mrs. Vaughn was a member of the South Philipsburg Christian & Missionary Alliance Church for over 50 years.  She had been a caregiver for many years and assisted her husband, Harold, in the operation of his business, Vaughn Brothers Excavating and Trucking.  She was a 1940 graduate of the Philipsburg High School.
In addition to her parents and husband, she was preceded in death by: a son, Ronald E Vaughn; four sisters, Dorothy Fisher, Leona Mitchell, Barbara Johnson and an infant sister, Vivian Twist; and a brother, Walter Twist.
Mrs. Vaughn is survived by: a son, Jeff H. Vaughn & his wife Leona of Philipsburg, PA; a brother, William Twist & his wife Diane of Philipsburg, PA; and several nieces and nephews.
The funeral will be held at 2:00 p.m. on Sunday, May 17, 2015 at the Beezer-Heath Funeral Home in Philipsburg, PA with Rev. Scott R. Hartsock officiating.  Burial will be at the Philipsburg Cemetery in Philipsburg, PA.
Visitation will be held on Sunday, May 17, 2015 from 1:00 p.m. until funeral time at the funeral home.
Memorial contributions may be made in memory of Mrs. Vaughn to a charity of the donor's choice.
Friends may sign the guestbook at beezerheathfh.com.