Betty Joyce Tutokey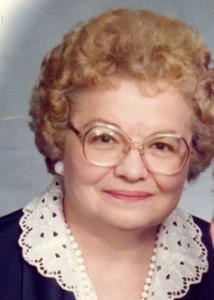 Betty Joyce Tutokey, 85, of Philipsburg, PA died on Thursday, December 26, 2013 at her residence.
She was the daughter of the late Joseph & Mary (Harnish) Smith, born on May 17, 1928 in Smoke Run, PA.  She married Andrew M. Tutokey on September 3, 1949 at the Holy Trinity Catholic Church in Ramey, PA.  He preceded her in death on June 3, 2000.
Mrs. Tutokey was a member of Saints Peter & Paul Catholic Church in Philipsburg, PA.  She was employed by the General Cigar Factory in Philipsburg for many years, until its closing and was a homemaker.  She enjoyed baking and crocheting.  She loved her family and wonderful friends.  She was a 1946 graduate of the Bigler Township High School.
She is survived by: a daughter, Diane M. Hevell & her husband Edward Burke of Philipsburg, PA; a son, David A. Tutokey & his wife Betty Lue of Millsboro, DE;  and a sister Genevieve Lehmier of Lock Haven, PA.  Betty is also survived by a granddaughter, Jackie Spicer & her husband Jeff of Osceola Mills, PA; three step-grandchildren, Thomas Beck of North Carolina, Kelly Conaway of Woodland and Tracy Hughes of Philipsburg; five step-great-grandchildren, including Anastyn Spicer of Osceola Mills; and several nieces and nephews.
The Funeral Mass will be celebrated at 11:00 a.m. on Tuesday, December 31, 2013 at Saints Peter & Paul Catholic Church in Philipsburg, PA, with Rev. Robert J. Kelly, celebrant.  Burial will be at the Holy Trinity Cemetery in Ramey, PA.
Visitation will be Monday December 30, 2013 from 2:00 – 4:00 and 6:00 – 8:00 p.m. at the Beezer-Heath Funeral Home in Philipsburg, PA.
The rosary will be recited at 2:30 p.m., Monday at the funeral home.
Memorial contributions may be made to: Saints Peter & Paul Catholic Church, 400 South Fourth St., Philipsburg, PA .
Friends may sign the guestbook at: beezerheathfh.com.