Eldarene "Bo" Turner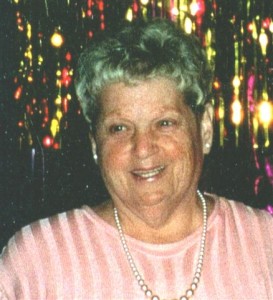 Eldarene "Bo" Turner, 73, of Philipsburg, PA passed away on Tuesday, June 18, 2013 at Windy Hill Village in Philipsburg, PA.
She was the daughter of the late Percy & Lily (Smeal) Yarger, born on January 4, 1940 in Sanborn, PA.  She married Raymond G. Turner on June 13, 1959 in Sanborn, PA.  He preceded her in death on January 31, 2001.
She was a protestant by faith and was an avid bingo player.  Bo was a homemaker and mother.  She was a 1958 graduate of the Moshannon Valley High School.
In addition to her parents and husband, Bo was preceded in death by: a brother, Daniel Yarger; and a sister, Theo Kline.
She is survived by: three daughters, Brenda S. Baughman & her husband Peter of Philipsburg, PA, Pamela J. Wood & her husband Edward of Philipsburg, PA, and Nanette L. Siegfried & her husband Wayne of Philipsburg, PA; and a brother Samuel Yarger & his wife Carolyn of Philipsburg, PA.  She is also survived by: six grandchildren, Chad Baughman & his wife Katie of Hawk Run, Adam Baughman of Philipsburg, Gregory Wood of Colorado Springs, CO, Ashley Wood of Philipsburg, PA, Katie Siegfried & her fiance Justin Kopchik of Philipsburg, and Trey Siegfried of Philipsburg; a great-grandson, Carsen Baughman of Hawk Run; a sister-in-law, Joyce Yarger of Philipsburg; a brother-in-law Emery Kline of DuBois; and several nieces and nephews.
The Funeral Service will be at 11:00 a.m. on Friday, June 21, 2013 at the Beezer-Heath Funeral Home in Philipsburg, PA with Rev. Lamarr Pirkle officiating.  Burial will be at the Bradford Cemetery in Woodland, PA.
Visitation will be on Thursday, June 20, 2013 from 4:00 – 8:00 p.m. and on Friday from 10:00 – 11:00 at the funeral home.
Memorial contributions may be made to the Rowland Theatre Incorporated, 127 N. Front St., Philipsburg, PA.
Friends may sign the guestbook at: beezerheathfh.com.