Patricia Louise Swanson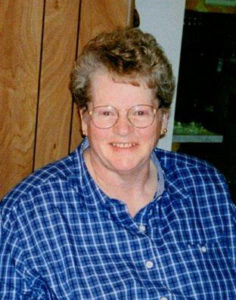 Patricia Louise Swanson, 76, of Philipsburg, died Monday, May 22, 2017, at Penn Highlands DuBois.
Born April 1, 1940, in Philipsburg, she was a daughter of the late William Elias and Alberta Elizabeth (Fleckenstein) Craven.
Patricia was a 1958 graduate of the former Philipsburg High School. She also attended the former Philipsburg State General Hospital School of Nursing.
She was a member of Ss. Peter & Paul Catholic Church, Philipsburg.
She had been first employed as a nurse's aide at Kaiser Hospital in California and also with the California Dept. of Motor Vehicles, Westminster, California. She was later employed and retired as a pharmacy technician with Rite Aid Pharmacy, Timoneum, Maryland.
Patricia especially enjoyed crocheting and crafting many other items for her family, friends and church.
She was married on January 21, 1961, in Philipsburg, to Leroy D. Swanson, whom survives at home.
She is also survived by one daughter, Barbara Ann Wychryst and her husband, Brian, of East Berlin; one son, Mark Daniel Swanson and his wife, Michaelle, of Beaumont, California; four grandchildren: Mark D. Swanson, Jr., Kristopher Swanson, Allison Marie and Sabastian Wychryst; one sister, Louise Ann Conklin and her husband, Marvin "Dusty," of Drifting; two brothers, Jerome "Jerry" Craven and his wife, Veronica, of RD Philipsburg and William Craven and his wife, Darlene "Dolly," of Elizabethtown; and several nieces and nephews.
In addition to her parents, she was preceded in death by a granddaughter, Christina Wychryst.
A Memorial Mass will be celebrated Friday, May 26, 2017, at 11:00 am at Ss. Peter and Paul Catholic Church, 400 S. 4th. Street, Philipsburg, with Rev. John Gibbons, Celebrant.
Interment will be in Ss. Peter & Paul Catholic Cemetery, RD Philipsburg.
Memorial contributions may be made in Patricia's memory to the charity of the donor's choice.
The funeral arrangements are under the direction of the Beezer-Heath Funeral Home, 719 E. Spruce Street, Philipsburg.