Eleanor May Sura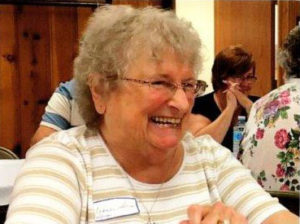 Eleanor May Sura, 77, of (North) Philipsburg, passed away Friday afternoon, October 27, 2017, at UPMC Altoona.
She was born on May 30, 1940, in Elkhart, Indiana, a daughter of Charles A. and Adeline (Cowell) Wolfinger, both of whom preceded her in death.
Eleanor started her working career while in high school. She was employed as an usher with the Miller Theatre and in shoe sales with Zeisel's Dept. Store, both of Elkhart. She graduated from Elkhart High School in 1958; and later, completed a number of college courses.
Eleanor was married on July 5, 1959, in Angola, New York, to George Sura, whom survives at home.
After their marriage in 1959, Eleanor lived in Elkhart and other neighboring states, traveling at times with their three daughters and accompanying her husband, George, during his employment with ITT Telecommunications.
When George accepted a two-year tour of duty with the US Dept. of State, Foreign Service, in 1968, Eleanor found herself and her family in the midst of Washington, D.C. Up until that time, the furthest she had ever traveled from home was Chicago, a mere two hours away. She and the three girls would accompany George on a number of other assignments; including: Beirut, Lebanon for 3 ½ years, Washington, D.C. for 3 years, Bonn, West Germany, for 5 years, Accra, Ghana, West Africa, for 1 year, Kinshasa, Zaire, Central Africa, for 3 ½ years and Mexico City, Mexico, for 1 year. During her husband's tours overseas, she had been employed with the APO and Mail Pouch sections of the American Embassies. While in Washington, D.C., she had been employed with the DEA Agency, Dept. of Justice.
Eleanor was a member of Nativity of St. John the Baptist Orthodox Church, Chester Hill. She was an active member of her church and her activities included: the church's St. Anne's Guild, serving as Council Secretary for several years while her husband served as Treasurer, assisting with ticket sales for the church's annual BBQ chicken event and assisting with various bake and yard sales throughout the years to help raise funds for the church. She loved her church and enjoyed the family hour discussions following the Liturgy Services.
She excelled in a number of crafts; including: sewing, cake decorating, knitting and crocheting. She also enjoyed playing bingo, cooking and "winning" at the area casinos. She especially loved getting together with her family, relatives and friends for both the biennial Sura Family Reunion held locally and the annual Wolfinger Reunion held in the Indiana and Michigan areas of the country. Needless to say, she loved being with her family and traveled extensively to be with them.
Eleanor and her surviving husband, George, enjoyed 58 years of marriage across the US and around the world. She is also survived by three daughters: Gloria A. Sura Taylor and her husband, Mel, of Elkhart, Ind., Catherine L. Sura and her husband, Paul Heesaker, of Silverthorne, Colo. and Susan E. (Sura) Sutherland and her husband, Les, of Glennallen, Alaska; three grandchildren, George I. and Sarah D. Taylor, both of Elkhart, and Melvin W. Taylor and his fiancee, Katie (Serge), of Osceola, Ind.; one great-granddaughter, Adele Taylor-Johnson, of Elkhart; one sister, Alice (Wolfinger) Ride and her husband, Will, of Saint Louis, Mich.; four sisters-in-law: Ann (Sura) Richards, of Hummelstown, Verna (Sura) Silay and her husband, Stephen, of Erie, Mary (Sura) Saupp, of Hollidaysburg, Susan (Sura) Johnson and her husband, Jerry, of West Seneca, New York; two brothers-in-law, Peter Sura, of Hollidaysburg and Marvin Hughes (New Liberty) RD Philipsburg; and numerous nieces, nephews, great-nieces and great-nephews.
Eleanor was also preceded in death by a brother, Maynard D. Wolfinger; three sisters-in-law, Irene R (Lowe) Wolfinger, Dorothy (Sura) Hughes and Connie (Wiggins) Sura; four brothers-in-law: Michael Sura, Jr. and his wife, Mari (Chitko), Vasil Sura, John Sura, Andrew Sura and his wife, Dorothy(Schick), Joseph Sura and his wife, Bernice (Whitmore), John Saupp and John Richards; and several nieces and nephews including, Charles Duane Wolfinger.
A Funeral Service will be held on Tuesday, October 31, 2017, at 2 pm at the Nativity of St. John the Baptist Orthodox Church, 420 Laura Street, Chester Hill, with Fr. Mark Meholic, Officiating.
The family will receive friends on Monday, October 30, 2017, from 5 to 8 pm at the Beezer-Heath Funeral Home, 719 E. Spruce Street, Philipsburg; and on Tuesday, October 31, 2017 from 12 Noon until the time to depart for church. A Panikhida Service will be held Monday, at 7 pm at the funeral home.
Interment will be in Hope Mausoleum at Rice Cemetery, Elkhart, under the direction of Stemm, Lawson & Peterson Funeral Home, Elkhart, Indiana.
In lieu of flowers, memorial contributions may be made in Eleanor's memory to the Nativity of St. John the Baptist Orthodox Church, 420 Laura Street, Philipsburg, Pa 16866.