Donna Rae Starck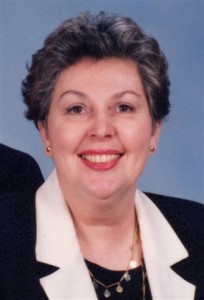 Donna Rae Starck, 76, of Philipsburg, PA, passed away on Wednesday, February 13, 2013 at the Mount Nittany Medical Center in State College, PA.
She was the daughter of the late Thomas and Esther (Voyzey) Crago, born on July 30, 1936 in New Liberty, RD Philipsburg, PA.  She married John F. Starck on June 17, 1956 at Saint Paul's Episcopal Church in Philipsburg, PA.  He survives her at home.
Mrs. Starck was a member of Saint Paul's Episcopal Church in Philipsburg, PA.  During the 40 years Donna Rae spent in North Carolina, she had served as president of the Queens College Alumni, Charlotte chapter and had served as the college's Financial Aid Officer.  She had also been an active member of the Sardis Presbyterian Church, the Cabarrus County Newcomer's Club, Reed's Gold Mine, and was elected to the local board of directors for First Citizens Bank of Concord, NC.
She assisted her husband, John for more than 30 years as business manager in the operation of their business, Starck Engineering.
She was a 1954 graduate of the Philipsburg High School and was very active in organizing the annual class reunions.  She also graduated summa cum laude in 1981 from Queens University in Charlotte, North Carolina.
In addition to her husband, Mrs. Starck is survived by: two daughters, Susan S. Alston & her husband Wyatt of Davidson, NC and Lori S. Williams & her husband Jacob of Beech Mountain, NC; and two sisters, Betty Jean Port of Philipsburg, PA and Linnie Mae Hassinger of New Liberty, RD Philipsburg, PA.  She is also survived by: four grandchildren, Lauren Bridges, Anna Ashby, and Neil and John Zarbock; a great-grandson, Benjamin Bridges; and several nieces and nephews.
The funeral service will be held at 11:00 a.m. on Friday, February 22, 2013 at the Beezer Heath Funeral Home in Philipsburg, PA, with Rev. William R. Walker officiating.  Burial will be at the Philipsburg Cemetery in Philipsburg, PA.
Visitation will be Thursday, February 21, 2013 from 6:00 – 8:00 p.m. and on Friday from 10:00 – 11:00 at the funeral home.
In lieu of flowers, memorials in memory of Donna Rae may be made to fund research for Parkinson's Disease and mailed to the Parkinson's Disease Foundation, 1359 Broadway, Suite 1509, New York, NY 10018 or to contact them online at 'support.pdf.org'.
Friends may sign the guestbook at: beezerheathfh.com.