Charles N. Standeven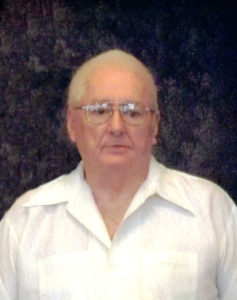 Charles N. Standeven, Jr., 82, of Osceola Mills, and formerly of Rhode Island, died Tuesday, February 14, 2017, at Mount Nittany Medical Center, State College.
Born June 2, 1934, in South Kingstown, R.I., he was a son of Charles N. Standeven, Sr. and Mildred A. (Barker) Standeven, whom both preceded him in death.
He was a Navy Veteran of the Korean War. When he was still in good health, he

attended The Well, Philipsburg.
Charles was employed in several different occupations while living in Rhode Island. He was first employed with a laundry service; then as a bus driver with Johnson & Wales University; and then he was employed for 32 years as a stationary engineer with the former American Insulated Wire, Pawtucket, R.I., until his retirement. Upon moving to Pennsylvania, he accepted a bus driving position with Fullington Bus Company, which he held for four years.
Charles was married on June 16, 2012, at The Well, Philipsburg, to the former Nancy L. (Weidel) Saulsgiver, whom survives at home.
He is also survived by two sons, Charles N. Standeven, III and his wife Ila, of Morrisdale and William Henry Standeven and his wife, Christina, of Brattleboro, Vermont; three grandchildren: Charles, Alyssa and Isabel Standeven; one step-son, Roger S. Lee and his wife, Jolie, of Decatur, Indiana; three step-grandchildren: Emily, Rebecca and Alex Lee; one sister, Ann L. Standeven, of Arizona; and one brother, Gene "Butch" Standeven and his wife, Penny, of Stuart, Florida.
Charles enjoyed a number of hobbies in his spare time. These included: watching his favorite TV programs, some of which were "westerns;" going to see the "mud races" or watching them on TV; outdoorsman activities; watching nature whether at his home or out on camping trips; and he enjoyed camping so much that he combined his career as a bus driver and camping with a camper that he fabricated out of an old school bus. He also enjoyed Native American lore and crafts.
A funeral service will be held on Saturday, February 18, 2017, at 7 pm at the Beezer-Heath Funeral Home, 719 E. Spruce Street, Philipsburg, with Rev. Timothy Richmond, Officiating.
A visitation will be on Saturday from 4 pm until the time of the service at the funeral home.
Military Honors will be accorded at the funeral home by the Moshannon Valley Independent Honor Guard.
Interment will be in Crown Crest Memorial Park, Hyde.
Memorial contributions may be made in Charles' memory to the American Heart Association, 1019 Mumma Road, Wormleysburg, Pa 17043 or to the American Diabetes Association, 2 Chatham Center • Ste. 1520, 112 Washington Place, Pittsburgh, Pa 15219.