Joseph E. "Joe" Soltis, Sr.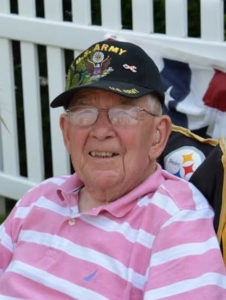 Joseph E. "Joe" Soltis, Sr., 84, of Philipsburg, died Friday, December 1, 2017, at Windy Hill Village, PSL, Philipsburg.
Joe was born on December 27, 1932, in Hawk Run, a son of John and Mary (Verost) Soltis, both of whom preceded him in death.
He was a 1951 graduate of the former Morris Township High School. Following high school, Joe served with the US Army and was a veteran of the Korean War.
He was first employed with Curtiss-Wright Corp, formerly of Quehanna; he would then be employed with the United States Postal Service for 45 years until his retirement in 2004.
Joe was a member of Ss. Peter & Paul Catholic Church, Philipsburg. He was a Life Member of the Philipsburg VFW,
Louis Jenkins Post 3450 and the Military Order of Cooties, Pup Tent #58.
Joe was married on September 3, 1955, in Winchester, Virginia, to the former Ruth I. Shugarts, who preceded him in death on January 27, 2012.
He was also preceded in death by three sisters: Margaret Stonebraker, Mary Howe and Delores Sudik; and two brothers, James and John Soltis, in addition to his parents and wife, Ruth.
Joe is survived by two daughters, Cindy Ann Brubaker and her husband, Stan, of York and Karen Soltis, of Randallstown, Maryland; two sons, Joseph E. Soltis, Jr. and his wife, Jackie, of Philipsburg and James G. Soltis and his wife, Stacey, of Osceola Mills; three sisters: Josephine Soltis, of Hawk Run, Marcella Hugney and her husband, Marvin, of Hawk Run and Annette Yingling and her husband, Bill, of Philipsburg; one brother, Edward Soltis and his wife, Barbara, of Hawk Run; five grandchildren: Spencer J. and Joshua D. Brubaker, both of York, James J. Soltis and his wife, Niki, of Philipsburg and Ryan J. and Samantha Jo Soltis, both of Osceola Mills; a great-grandson, Keegan T. Soltis, of Philipsburg; and numerous nieces and nephews.
A Funeral Mass will be Celebrated on Thursday, December 7, 2017, at 11 am at Ss. Peter & Paul Catholic Church, 400 S. 4th. Street, Philipsburg, with Rev. John Gibbons, Celebrant.
Visitation will be on Wednesday, December 6, 2017, from 2 to 4 pm and 6 to 9 pm and on Thursday, from 9 until 10:30 am at the Beezer-Heath Funeral Home, 719 E. Spruce Street, Philipsburg. The recitation of the Rosary will be on
Wednesday at 3:30 pm at the funeral home.
Interment will be in Ss. Peter & Paul Catholic Cemetery, RD Philipsburg.
Military Honors will be accorded by the Moshannon Valley Independent Honor Guard.
Memorial contributions may be made in Joe's memory to the Ss. Peter & Paul Catholic Church, 400 S. 4th. Street, Philipsburg, Pa 16866 or to the charity of the donor's choice.