Elma (Schnars) Gette Smithmyer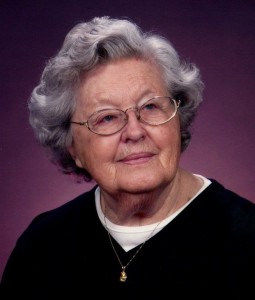 Elma Ruth (Schnars) Gette Smithmyer, 96, of Key Colony Beach, Florida and formerly of Philipsburg, died on Wednesday, April 22, 2015 at Epworth Manor in Tyrone, PA.
Born May 15, 1918 in Hawk Run, PA, she was the youngest child and only daughter of Raymond Ralph and Minetta (Haywood) Schnars and is a descendant of J.F.W. Schnars of Hamburg, Germany, who came to Karthaus, Clearfield County in 1815.
She was a member of the First Church of Christ, Philipsburg and a former member of the Centre County Republican Club. Elma was an avid bridge player and enjoyed golfing and traveling. She was a homemaker and mother.  Elma was a 1936 graduate of the Morris Township High School.
On October 3, 1937 at the First Christian Church in Lemoyne, PA, she married Dr. Luther Miller Gette of Philipsburg, the minister being her beloved brother, Clarence H. Schnars.  They settled in Philipsburg where Dr. Gette practiced dentistry until his death on June 17, 1978.  On November 21, 1981 at Sts. Peter & Paul Catholic Church in Philipsburg, she married Clarence Edward Smithmyer of Altoona, PA who preceded her in death on March 18, 1994.  "Smitty" became a second grandfather to the family.
Surviving are three sons, Luther Gette of Madison, Wisconsin; Alan Gette and his wife, Carla and Thomas A. "Tim" Gette, all of Philipsburg.  She is also survived by five grandchildren, Emily J Gette-Doyle and her husband, Ryan; Elizabeth Sinclair and her husband, Allen; Thomas Gette and his wife, Mandi, all of Philipsburg; Vanessa Heeman and her husband, Russell of Munroe, Ohio; Jeffrey Gette and his companion, Andria Neff of Friendsville, Maryland; nine great-grandchildren, Devin, Lila, and Josie Tekely; Benton and Tanner Sinclair, Tyler, Tristan, and Trey Doyle; and Sienna Heeman; and numerous nieces and nephews.
In addition to her parents and both husbands, she was preceded in death by four brothers, Clarence, Raymond, Earl, and Clyde Schnars.  Elma was the last of her generation.
Funeral services will be held on Monday, April 27, 2015 at 12 p.m. at the First Church of Christ, Philipsburg with Rev. Timothy D. Richmond officiating.  Friends will be received at the Beezer-Heath Funeral Home, Philipsburg on Sunday, April 26, 2015 from 6-8 p.m. and from 11-12 p.m. at the church on Monday.  Interment will be at the Philipsburg Cemetery.  A luncheon will follow in the church social hall.
Elma was greatly beloved by family and friends.  Memorial contributions may be made to the Philipsburg Historical Foundation, 203 N. Front St., Philipsburg, PA 16866.
Friends may sign the guestbook at beezerheathfh.com