Alma Z. Sleigh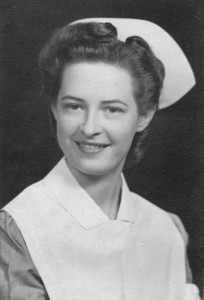 Alma Z. Sleigh, 93 of State College, PA and formerly of (Gearhartville) RD Philipsburg, PA died on Thursday, August 13, 2015 at the Hearthside Rehabilitation & Nursing Center in State College, PA.
Born on December 2, 1921 in Coalport, PA, she was the daughter of the late William and Martha (Jendral) Zwiener.  She married her loving husband R. Roy Sleigh, Sr. on January 22, 1948 in Philadelphia, PA; he preceded her in death on May 24, 2009.
Mrs. Sleigh was a member of St. Thomas of Canterbury Anglican Church in Philipsburg, PA and was formerly a member of the church choir.   She worked for a time as a governess for several families in the New York City area.  She was then employed for several years at the Thomas Edison Company in East Orange, NJ.  After returning to the Philipsburg area she completed her educational requirements to be a registered nurse and for many years worked at the Philipsburg State General Hospital, first as a floor nurse and later as an ER and operating room nurse, until retiring.  She also worked at times as a private duty nurse.  Alma and her husband Roy, also formerly owned and operated a dairy farm in the Centre Hall area from 1948-1953.  She was a 1940 graduate of the Beccaria Township High School and a 1947 graduate of the Philipsburg State General Hospital School of Nursing.  Alma enjoyed making wedding cakes for her family members and friends.  She was also a prolific oil painter and an accomplished seamstress.
In addition to her parents and her loving husband, Roy, she was preceded in death by: five sisters, Hilda, Helen, Irma, Anita and Matilda; and two brothers, Arthur and Henry.
Mrs. Sleigh is survived by: a daughter, M. Kate Sleigh of Philipsburg, PA; two sons, Richard R. Sleigh Jr. & his wife Jane of Boalsburg, PA and Jeffrey Lynn Sleigh of Philipsburg, PA; two sisters, Evelyn DeCastro of New Jersey and Patricia McIntire of Virginia;  two granddaughters, Julie and Violet Sleigh of Boalsburg; and numerous nieces and nephews.
The Funeral Service will be held at 4:00 p.m. on Monday, August 17, 2015 at the Beezer-Heath Funeral Home, 719 E. Spruce Street, Philipsburg, PA 16866; with Lay Reader Bruce Shannon officiating.
Visitation will be held on Monday, August 17, 2015 from 2:00 – 4:00 p.m. at the Beezer-Heath Funeral Home.
Memorials may be made to the charity of the donor's choices.
Friends may sign the guestbook at beezerheathfh.com.