Doloris L. "MOM-MOM" Shaw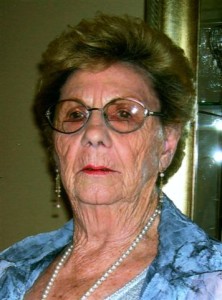 Doloris L. "MOM MOM" Shaw, 90, of West Decatur, PA passed away on Saturday, May 18, 2013 at her residence.
She was the daughter of the late John Edward & Dora George (Nash) McTigue, born on September, 14, 1922 in Philipsburg, PA.
Mrs. Shaw was a member of St. Francis Catholic Church, Clearfield and the Order of Sons of Italy, Lodge #189, also of Clearfield.  She was formerly a member of the Philipsburg Country Club .  She was an avid golfer and member of the National Hole-In-One Association.  She also enjoyed sewing, painting and collecting dolls.  Mrs. Shaw was a published poet with the International Library of Poetry.  She was also the owner and instructor of the Shaw – Ghaner School of Dance for over 60 years.
She was a graduate of the Philipsburg High School and the Adele Allens School of Cosmetology in Altoona, where she received her cosmetology license.  Mrs. Shaw also maintained professional membership with the Dance Educators of America and Dance Masters of America.  She loved teaching children the art of dance and touched the lives of thousands of children throughout the area, with hopes of bringing the love of dance and culture to many.
Mrs. Shaw was preceded in death by: her first husband, Franklin Libreatori; her second husband, Russell G. Shaw, in 2010; two daughters, Franquline Rae Libreatori and Frankalee Libreatori Nixon; a son-in-law, Harry J. Ghaner, Sr.; two brothers and one sister.  She was the last of her generation.
She is survived by: two daughters, Phyllis M. Ghaner of West Decatur, PA and Shawn M. Shaw of West Decatur, PA; and a son, Franklin G. Shaw of Ohio.  She is also survived by: three grandchildren, Heather Ireland & her husband, Christopher of Surveyor, Harry J. Ghaner, Jr. & his wife Diane of Clearfield, and Ian R. Shaw of Ohio; three great-grandchildren, Victoria M. & Devynn C. Ireland and Haidyn J. Ghaner; and several nieces and nephews.
Mass of the Christian Burial will be celebrated at 1:00 p.m. on Wednesday, May 22, 2013 at St. Francis Catholic Church in Clearfield, PA, with Monsignor H. Desmond McGee, Jr. celebrant.  Burial will be at the Philipsburg Cemetery in Philipsburg, PA.
Visitation will be on Tuesday, May 21, 2013 from 2:00 – 4:00 & 6:00 – 8:00 p.m. at the Beezer-Heath Funeral Home, 719 E. Spruce St., Philipsburg, PA.
Friends may sign the guestbook at: beezerheathfh.com.