John Paul Ruggiero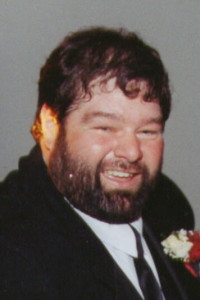 John Paul Ruggiero, 45, of Morrisdale, PA, passed away on Friday, August 16, 2013 at the M.S. Hershey Medical Center in Hershey, PA.
He was the son of the John D. & Gail L. (Brown) Ruggiero of Drifting, PA, born on March 5, 1968 in Philipsburg, PA.  He married the former Elizabeth Ann "Betty" Fenush on May 19, 2001 at St. Severin's Catholic Church in Drifting, PA.  She survives him at home.
Mr. Ruggiero was a member of St. Severin's Catholic Church in Drifting, PA.  He was a 3rd Degree Member of the Knights of Columbus, Holy Family Council #8701 in Morrisdale, PA and a member of the B.P.O.Elks Lodge #1173 in Philipsburg, PA.
He was employed as a heavy equipment operator with the International Union of Operating Engineers, Local #66 in Pittsburgh, PA and was a 1986 graduate of West Branch High School.
Mr. Ruggiero was an avid hunter; he also enjoyed going to auctions and yard sales with his friend, Steve Biggins.
Mr. Ruggiero was preceded in death by his paternal grandparents and step-grandfather, William E. Matthis.
In addition to his parents and wife, he is survived by: two sisters, Stephanie E. Green & her husband John of Kylertown, PA and Melissa A. Catalano of Grassflat, PA; and a brother Mark D. Ruggiero of Morrisdale, PA.  He is also survived by:  his maternal grandmother, Elaine Matthis of Osceola Mills; one niece, Emily; and four nephews, Josh, Cody, Eddie and Tyler.
A private Memorial Mass will be celebrated at the convenience of the family.  Burial will be at the St. Severin's Catholic Cemetery in Drifting, PA.
There will be no public visitation.
The funeral arrangements are under the direction of the Beezer-Heath Funeral Home, 719 E. Spruce Street, Philipsburg, PA 16866.  Online condolences may be submitted at www.beezerheathfh.com.
Memorial Contributions may be made to the American Heart Association, 610 Community Way, Lancaster, PA 17603.