CARMEN  "Connie"  RUGGIERO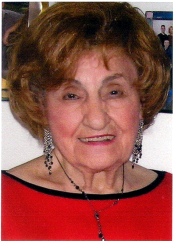 Carmen " Connie" Ruggiero, 97, of RD Philipsburg died Thursday,  July 7, 2016, at Windy Hill Village P.S.L., RD Philipsburg, Pa.
Born on January 20, 1919, in Chester Hill, Pa, she was the daughter of the late Salvatore and Pasqualina (Alberalla) Ruggiero.
She was a member of Ss.. Peter & Paul Catholic Church, Philipsburg.
Connie spent many years employed as a seamstress at the Osceola Mills location of the  Charles Navasky & Company.
Connie loved spending her days with her sisters upon her retirement. She also enjoyed shopping in Altoona, vacationing in Atlantic City and making delicious soup.
Connie was preceded in death, in addition to her parents, by six brothers: Alexander, Joseph, Harmon, Albert, John and her twin, Orlando Ruggiero; and three sisters: Anna Ruggiero, Mary Basarab and Geraldine Pezalski.
She was the last of her generation.
She will be greatly missed by her many nieces and nephews, whom she loved dearly.
Private funeral services will be held at the Beezer-Heath Funeral Home, 719 E. Spruce Street, Philipsburg, with Rev. Joseph Staszewski, Officiating.  Burial will be at Ss.. Peter & Paul Catholic Cemetery, RD Philipsburg, Pa.  There will be no public visitation.
Memorial contributions may be made to Altar & Rosary Society, C/O  Ss. Peter & Paul Catholic Church, 400 S. 4th. Street, Philipsburg, PA  16866; or to Windy Hill Village, PSL, 100 Dogwood drive, P.O. Box 551, Philipsburg, PA  16866.
Friends may sign the guestbook at beezerheathfh.com.