Martin T. "Sonny" Rebo, Jr.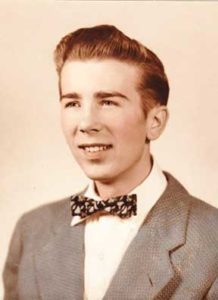 Martin T. "Sonny" Rebo, Jr., 77, of Chester Hill, passed away October 10, 2017, at his residence surrounded by his loving family.
He was born on March 21, 1940, in Philipsburg, a son of Martin and Justine (Rebon) Rebo, both of whom preceded him in death.
Sonny was a 1958 graduate of the former Houtzdale-Woodward-Brisbin (H-W-B) High School.
Following high school, he served in the Army and spent a portion of his service
stationed in France.
He spent most of his working career employed as a skidder operator for C.W. Krause Pulpwood and Logging, Houtzdale. He was also more recently licensed as a certified dental technician, until his retirement.
Prior to Sonny's illness, he enjoyed playing tennis, golf and basketball with his boys. He also enjoyed and excelled at darts and pool tournaments. He loved being outdoors and long drives in the country. Some of the families fondest memories of Sonny are of him singing and playing the guitar.
Sonny will be deeply missed by his survivors, including: a daughter, Penny Rebo, of Chester Hill; three sons: Martin Rebo, III and his wife, Dawn (Walstrom), of Chester Hill, Michael Rebo, of Las Vegas and Matthew Rebo, of Gearhartville, RD Philipsburg; eight grandchildren: Stormi Ciera Rebo, Connor Christopher McDonald, Mikayle Akasha Rebo, Martin Skyler Rebo, Haley Marisa Rebo, Kate Elizabeth Rebo, Mekalina Lucinda Rebo and Gwendolyn Rose Rebo; two sisters, Anna Mae Beveridge, of Munson and Nancy Franek and her husband, John, of Ginter; and numerous nieces and nephews.
Sonny was preceded in death by a daughter, Wendy; two brothers, Michael and George; a nephew, Tony and three nieces: Hope, Amy and Holly.
A private memorial service will be held at the convenience of the family, per Sonny's request. Memorial contributions, in lieu of flowers, may be made in his memory in care of the Beezer-Heath Funeral Home, 719 E. Spruce Street, Philipsburg, Pa 16866.