Wilferd Gene Ralston, Sr.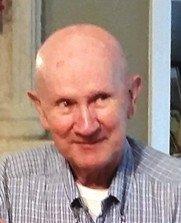 Wilferd Gene Ralston, Sr., 78, of Myrtle Beach, South Carolina and formerly of Parsonville, RD Houtzdale, died Monday, February 22, 2016 at the Conway Medical Center in Myrtle Beach.
Born on October 4, 1937 in Parsonville, he was a son of the late Robert Guy and Dorothy (Stone) Ralston.
He had been a member of the Evangelical Baptist Church of Osceola Mills and currently the Beach Church in Myrtle Beach. He was a member of the Loyal Order Of Moose, Lodge # 1959, Myrtle Beach and enjoyed watching NASCAR racing.
Mr. Ralston had worked as a mechanic for IBM in Dayton, New Jersey and later in Gainesville, Virginia, from which he retired.
He married the former Betsy Joan Foreman on May 26, 1956 at the Parsonville Assembly of God. She preceded him in death on August 19, 2012.
In addition to his parent's and wife, he was preceded in death by a brother, Thurman Ralston; and two sisters, Carol Hardt and Darlene Vershack.
Mr. Ralston is survived by two daughters, Cindy L. Williams and her husband, Gary of Myrtle Beach and Brenda A. Ratiner of Chambersburg, Pennsylvania; a son, Wilford "Willy" G. Ralston, Jr. of Chambersburg, Pennsylvania; nine grandchildren and six great-grandchildren .
Also surviving are five sisters, Millie Dean and her husband, Larry of New Cumberland, Pennsylvania; Lois Pullen of Florence, New Jersey; Bonnie Hartman and her husband , Dave of Osceola Mills; Arlene Vershack and her husband, Vic of Springdale, Pennsylvania; Loretta Krause and her husband, Rev. W. Dean Krause of Philipsburg; three sisters-in-law, Sharon Foreman; Sandra Foreman and her husband, William; and Marlene Ralston; a brother-in-law, Marty Vershack; and numerous nieces and nephews.
Funeral services will be held on Saturday, February 27, 2016 at 11 a.m. at the Beezer-Heath Funeral Home, Philipsburg with Rev. W. Dean Krause, brother-in-law of Mr. Ralston, officiating. Interment will be at Philipsburg Cemetery.
Friends will be received on Friday, February 26, 2016 from 6 -8 p.m. and on Saturday from 10 – 11 a.m. at the funeral home.
Contributions in memory of Mr. Ralston may be made to the American Cancer Society, 26 South 2'nd St., Clearfield, PA 16830.
Family and friends may sign the guestbook and share memories at beezerheathfh.com