George Radomsky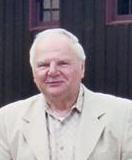 George Radomsky, 85, of Patton PA passed away on Sunday, April 7, 2013 at the Altoona Regional Health System in Altoona, PA.
He was the son of the late John & Elizabeth (Prestash) Radomsky, born on August 19, 1927 in Smoke Run, PA.  He married the former Joann O'Bradovich in 1960 in Kentucky.  She preceded him in death in 1997.
Mr. Radomsky was a member of the Nativity of St. John the Baptist Orthodox Church in Hawk Run, PA.  He was an Army veteran of W.W. II and was formerly a member of the Patton Veterans of Foreign Wars and American Legion.
He was a safety director for U.S. Steel, North American Steel, and Consol Energy of Pittsburgh until retiring.  He had also been an instructor of mining engineering at Penn State.
Mr. Radomsky was the Valedictorian of the class of 1945 from the Beccaria Township High School.  He earned his Bachelor's and Master's degrees in Mining Engineering from Penn State.
In addition to his parents and wife, he was preceded in death by: a daughter, Ann Radomsky; and a sister, Marie Ellzey.
Mr. Radomsky is survived by: a son, David Radomsky of Vienna, VA; a brother, Robert Radomsky & his wife Gerry of Curwensville, PA; a niece, Elizabeth D. Radomsky & her husband Douglas Delaney and a great-niece, Joanna Delaney, all of Pittsburgh.
The Funeral Service will be held at 10:00 a.m. on Thursday, April 11, 2013 at the Nativity of St. John the Baptist Orthodox Church in Hawk Run, PA, with Rev. Peter Benyo officiating.  Burial will be at the church cemetery in Hawk Run, PA.
Visitation will be Wednesday, April 10, 2013 from 5:00 – 8:00 p.m. at the Beezer-Heath Funeral Home in Philipsburg, PA.
Panahida will be held on Wednesday at 5:00 p.m. at the funeral home.
Friends may sign the guestbook at: beezerheathfh.com.