Rosemary Quick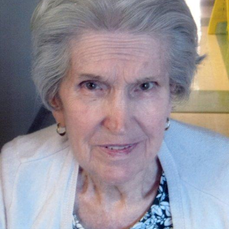 Rosemary Quick, 87, a resident of the Mountain Laurel Nursing and Rehabilitation Center, Clearfield, and formerly of Morrisdale, died Wednesday, April 20, 2016 at the center.
Born on October 12, 1928 in Philipsburg, she was a daughter of the late Lee and Winifred (Blakeney) Herr.
Mrs. Quick was a member of the Summit Hill United Methodist Church, Morrisdale and was a member of the Centre Hill Grange. She was a homemaker.
On April 10, 1947 in Towson, Maryland, she married Mearl E. Quick, Sr. He preceded her in death on October 29, 1987.
In addition to her husband and parents, a son, Eugene Mearl Quick; a grandson, Ryan E. Quick; a sister, Mildred Jones; and four brothers, Lee, Robert, William, and Thomas Herr preceded her in death.
Mrs. Quick is survived by two daughters, Rose Marie Ennis and her husband, Richard of Julian; Frieda J. Catalano and her husband, Donald of Clearfield;three sons, Mearl E. Quick, Jr.and his wife, Elaine of Kingman, Arizona; Eugene Quick and his wife, Deborah of Morrisdale; Benny L. Quick and his wife, Brenda of Spring Valley, RD West Decatur; and two sisters, Evelyn Brown of New York; and Beatrice M.Pavlick of Philipsburg.
Five grandchildren, eleven great-grandchildren, a great-great-grandson, and numerous nieces and nephews also survive her.
Funeral services will be held on Sunday, April 24, 2016 at 4 p.m. at the Beezer-Heath Funeral Home, Philipsburg, with Pastor Tina Hawkins officiating. Interment will be at Emigh Cemetery, Morrisdale.
Friends will be received on Sunday from 2 p.m. until the time of services at 4 p.m. at the funeral home.
In lieu of flowers, contributions in memory of Mrs. Quick may be made to the Summit Hill United Methodist Church, 821 Summit Hill Road, Morrisdale, PA 16858 or the American Heart Association, 501 Howard Ave., Suite D101, Altoona, PA 16601.
Family and friends may sign the guestbook and share memories at beezerheathfh.com