Geraldine R. "Gerry" Pezalski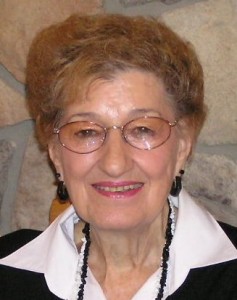 Geraldine R. "Gerry" Pezalski, 91 formerly of Philipsburg, PA died Monday, May 27, 2013 at the Fairways of Brookline in State College, PA where she had resided for the past two years.
Born on September 18, 1921 in Philipsburg, she was a daughter of the late Salvatore and Pasqualina (Alberalla) Ruggiero and the youngest of ten children.  Gerry was a 1940 graduate of the Philipsburg High School.  Upon her graduation she accepted a secretarial position at the Wolf Furniture Store in Philipsburg and worked there for six years.
On September 21, 1946 in the Immaculate Conception Catholic Church in Osceola Mills, she married Raymond H. Pezalski, Sr., who preceded her in death on September 28, 2001.  They moved to Niagara Falls until 1948, then returned to their hometown and raised their family.  In 1964, Gerry accepted a receptionist position at Mid-State Bank where her friendly smile welcomed customers until her retirement in 1986.
She was a devoted wife, loving mother, grandmother and aunt.  Her laughter, kindness and generous heart are memories her family and friends will always cherish.
Gerry loved to cook and always made more than enough food when entertaining family and friends.  Her rice pudding was revered by everyone.  She enjoyed card games and shopping sprees with her friends and spending time with her family.  She was also an avid fan of Penn State football.
She was a lifelong member of Saints Peter & Paul Catholic Church in Philipsburg and the Alter and Rosary Society.
Geraldine is survived by: a son, Raymond H. Pezalski and his wife Cynthia of Boalsburg; a daughter, Linda K. Stevens and her husband John of Stormstown; two sisters, Anna and Connie Ruggiero of Philipsburg; five grandchildren, Carrie Lamb and her husband Dr. Paul Lamb of Philipsburg, Dr. Tyler Pezalski and his wife Jocelyn of Southern Pines, NC, Caitlin Dare and her husband Eric of State College, Bret Stevens of Occoquan, VA, Matt Stevens and his wife Jessica of Langhorne, PA; ten great-grandchildren; one sister-in-law; and numerous nieces and nephews.
In addition to her parents and husband, she was preceded in death by: twin infant great-granddaughters; six brothers;  and one sister.
The Funeral Mass will be celebrated on Saturday, June 1, 2013 at 1:00 p.m. at Saints Peter & Paul Catholic Church, Philipsburg with Rev. Robert J. Kelly as celebrant.  Burial will be at Saints Peter & Paul Cemetery in Philipsburg, PA.
Friends will be received on Friday, May 31, 2013 from 2:00 – 4:00 p.m. and 6:00 – 8:00 p.m. at the Beezer-Heath Funeral Home in Philipsburg.  The rosary will be recited on Friday at 3:30 p.m. at the funeral home.
In lieu of flowers, contributions in memory of Gerry may be sent to Home Nursing Agency Hospice Foundation, 201 Chestnut Ave., P.O. Box 352, Altoona, PA 16603 or to the Brookline Employees Fund, 1950 Cliffside Drive, State College, PA 16801.
The family wishes to extend their gratitude to Dr. Sheldon Henry and Dr. Jonathan Dranov for the care and attention they gave to Geraldine over the years.
Friends may sign the online guestbook by going to beezerheathfh.com.