WILLIAM M. PETERS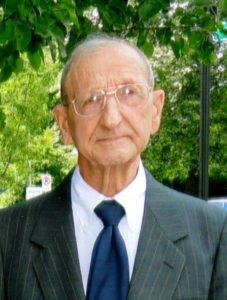 William M. Peters, 89, a resident of the Hollidaysburg Veterans Home, Altoona and formerly of Philipsburg, died Wednesday, April 27, 2016 at the veteran's home.
Born on October 18, 1926 in West Decatur, he was a son of the late Winfield and Iva (Price) Peters.
Mr. Peters was a member of the Gospel Tabernacle in Hudson, RD Philipsburg.
He was also an Army veteran of W.W. II and a member of the International Brotherhood of Electrical Workers.
He was a 1945 graduate of the Philipsburg High School and had been employed with Penelec for 38 years, until retiring.
On August 30, 1947, in Philipsburg, he married the former Barbara E. Christopher, who survives, of Morrisdale.
In addition to his parents, Mr. Peters was preceded in death by a granddaughter , Danielle Pellow; two sisters, Mary Windisch and Sarah Pitts; and two brothers, Richard and George Peters. He was the last of his generation.
Surviving are three daughters, Sandra Pellow and her husband, Daniel of Osceola Mills; Deborah Humphrey and her husband, Charles of Philipsburg; Christine Wilson and her husband, Greg of Philipsburg; and a son, Gregory W. Peters and his wife, Donna of Burlington, North Carolina.
Eleven grandchildren, nine great-grandchildren, and several nieces and nephews also survive him. Funeral services will be held on Monday, May 2, 2016, at 11 a.m. at the Beezer-Heath Funeral Home, Philipsburg, with Rev. Daniel B. Winters officiating. Members of the Moshannon Valley Independent Honor Guard will accord military honors at the funeral home.
Interment will be at Philipsburg Cemetery.
Friends will be received at the funeral home on Sunday, May 1, 2016 from 5 until 7 p.m. and on Monday, from 10 a.m. until the time of service.
Memorial contributions may be made to the Gospel Tabernacle, 236 Scott Lane, Philipsburg, PA 16866 or the Alzheimer's Association, 3544 N. Progress Avenue, Ste. 205, Harrisburg, PA 17110-9638.
Family and friends may sign the guest book and share memories at beezerheathfh.com