Mildred Iris Pearce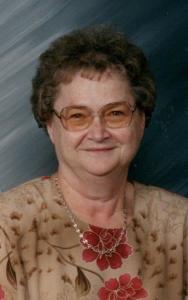 Mildred Iris Pearce, 72, of Philipsburg, PA died on Wednesday, November 5, 2014 at her residence.
Born on January 18, 1942 in McIntyre, PA, she was the daughter of the late Charles & Evelyn Christine (Manges) Huey.  She married David L. Pearce, Sr. on June 15, 1963 at Union Church in Aultman, PA; he survives at home.
She was protestant by faith.  Mrs. Pearce and her husband, David, were actively involved in cub and boy scouting for many years.  She enjoyed spending time with her family and was also an avid couponer.  She was a homemaker and mother.  She was a graduate of Laura Lamar High School in Homer City, PA.
In addition to her parents, she was preceded in death by: a sister, Bertha Huey; and a grandson, Gavin Pearce.
Along with her husband, she is survived by: a daughter, Debra Ralston of Cary, NC; three sons, David L. Pearce, Jr. & his wife Tamara of Shade Gap, PA, Thomas Pearce & his wife Mary Kay of Osceola Mills, PA; and Charles Pearce & his wife Michelle of Woodbury, PA; two sisters Mary Bushman & her husband Jim of Dover, PA and Kathryn Huey of Aultman, PA; and three brothers, Charles "Ed" Huey & his wife Margie of Indiana, PA, Ronald Huey & his wife Dawn of Niagra, NY and Allen Huey & his wife Jean of St. Mary's City, MD.  She is also survived by seven grandchildren and several nieces and nephews.
The Funeral service will be held at 4:00 p.m. on Saturday, November 8, 2014 at the Beezer-Heath Funeral Home in Philipsburg, PA;  with Rev. Dr. Mary Jo Bruinooge officiating.  Burial will be at the Burnside Cemetery in Burnside, PA.
Visitation will be Saturday, November 8, 2014 from noon – 4:00 p.m. at the funeral home.
Friends may sign the guestbook at beezerheathfh.com.