Margaret (Peggy) Elizabeth Shannon Paul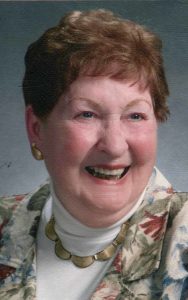 Margaret (Peggy) Elizabeth Shannon Paul, 87, beloved mother, grandmother, great-grandmother, and aunt died Sunday, May 22, 2016, at Windy Hill Village, P.S.L., Philipsburg, where she had been receiving tender care.
Born in Munson on May 23, 1928 to the late Albert T. and Madalyn (Eisenhauer) Shannon, Peggy was one of seven children, including Dorothy Jean White, Thomas, Albert, and Joseph Shannon, all now deceased.  Surviving are two sisters, Rosemary Sotok of Holland, Michigan and Roberta Stewart of Vienna, Virginia.
Peggy graduated from the Morris Township High School, Class of 1946, where she was Valedictorian.  After high school, she began her professional career with the federal government in Washington, D.C., and later worked for the Curtis-Wright Corporation in Quehanna.  In 1965, Peggy began her tenure in the Industrial Engineering Department at Penn State University, eventually becoming Administrative Assistant to Dean Benjamin Niebel, until her retirement.
On August 26, 1948, at Saint Agnes Parish in Morrisdale, Peggy Shannon became Mrs. Ralph Paul, marrying that dashing boxer and Navy Gunnersmate, back from the Pacific Theatre, who was enrolled at Lock Haven University.  Together they shared nearly 43 years of marriage, owning and operating, for a short time, Philipsburg's Parkway Market.  They raised a large, loving family of six children, delighting in their accomplishments, Cindy Pezalski and her husband Ray of Boalsburg; Mike Paul and his wife Carol, formerly of Boalsburg and now of Yemassee, S.C.; Patty Wood and her husband, Mike of Lanse; Chris Hertlein and her husband, Tim of Frenchville; Jennifer Bennett of Pitman, N.J.; and Shannon Paul and his wife, Dawn of Denver, PA.
Also surviving are Peggy and Ralph's 19 grandchildren, Carrie Pezalski Lamb, Dr. Tyler Pezalski, and Caitlin Pezalski Dare; Ryan, Jared, Margo, and Connor Paul; Philip, Nathan, and Patrick Wood; Tim, Tom, Luke and Matt Hertlein, and Suzy Hertlein Tubbs; Josh, Laura, and Emily Bennett; and Cpt. Kurtis Paul.  "Nana" is also survived by 26 great-grandchildren, who were indeed great in her eyes.
Peggy Paul had a keen intellect but relished simple pleasures.  She loved Sunday family cookouts, rousing games of Pinochle, and long car-rides, especially with Ralph.  Her family teased that she liked to go to Maryland…..for lunch.  She enjoyed morning walks at Black Moshannon State Park and endless games of Monopoly with her last grandchild, Connor, for whom she was caregiver for over a decade.  Peggy was devoted to her professional career and most especially to her large extended family, including many nieces and nephews. She faced struggles and setbacks with tenacity and resilience and leaves behind a legacy of sweetness, mingled with more than a tinge of feisty Irish grit.
The funeral mass will be celebrated at Sts. Peter & Paul Catholic Church, Philipsburg, on Friday, May 27, 2016 at 10 a.m., with Rev. John M. Gibbons as celebrant.  Interment will follow at St. Agnes Cemetery, Morrisdale.
Friends will be received on Thursday, May 26, 2016, from 4 – 8 p.m. at the Beezer-Heath Funeral Home, Philipsburg.  The rosary will be recited at 4:30 p.m. on Thursday at the funeral home.
Memorial contributions may be made to Windy Hill Village, P.S.L., 100 Dogwood Drive, Philipsburg, PA 16866 or Sts. Peter & Paul Catholic Church, 400 S. 4'th St., Philipsburg, PA 16866.
The family wishes to extend special thanks to Dr. Jeanne Beyer, volunteers from Sts. Peter & Paul Catholic Church, and Windy Hill Village for their ongoing kindness and compassion.
Family and friends may sign the guestbook and share memories at beezerheathfh.com