Virginia C. Mull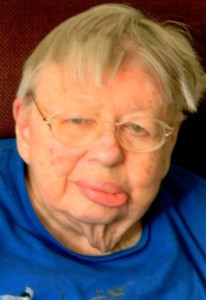 Virginia C. Mull, 95, of Philipsburg, PA died on Wednesday, April 30, 2014 at Windy Hill Village in Philipsburg, PA.
She was the daughter of the late Nathan Hale & Virginia C. (Tiedeman) Mull, born on February 15, 1919 in Philipsburg, PA.
Virginia was a member of St. Paul's Episcopal Church in Philipsburg and was a lifelong Episcopalian.  She had designed and hand embroidered quilts featuring the churches and priests of the Harrisburg Diocese in the 1940's.  Virginia had strong interest in animals, bicycles and W.W.II airplanes.  Hundreds of model airplanes assembled by her are on display at the Black Moshannon Airport.  She assembled and maintained her own bicycles and average 1000 miles a year riding daily in Philipsburg and as far away as Woodland.  Virginia loved all types of cats as well as horses and always wore shirts depicting their images.  She had attended Philipsburg schools until transferring to St. Mary's Hall in Burlington, N.J.
In addition to her parents, she was preceded in death by a brother, Nathan Hale Mull, II; and a sister-in-law, Alda Mull.
Virginia is survived by a niece Sandra Sorensen; a nephew, Nathan Hall Mull, III; and a cousin, Anthony P. Mull & his wife Lynda of Philipsburg and their children.
The Funeral Service will be held at 3:00 p.m. on Monday, May 5, 2014 at St. Paul's Episcopal Church in Philipsburg, PA, with Rev. William R. Walker officiating.  Burial will be at the Philipsburg Cemetery in Philipsburg, PA.
Visitation will be on Monday, May 5, 2:00-3:00 at the church, prior to the service.
Arrangements are under the direction of the Beezer-Heath Funeral Home in Philipsburg, PA.
The family of Virginia would like to thank Windy Hill Village for their compassionate care, Father William Walker, and the County National Bank Trust Department.   Memorial contributions may be made to the Clearfield Co. SPCA, 275 21'st Street, Clearfield, PA 16830 or to Windy Hill Village, P.O. Box 551, Philipsburg, PA 16866.
Friends may sign the guestbook at: beezerheathfh.com.