Gladys C. Meyer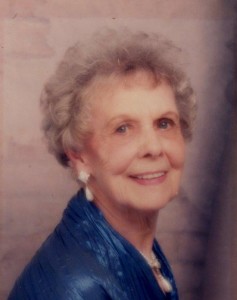 Gladys C. Meyer, died Monday, April 21, 2014 at 6:25 am at Windy Hill Village, P.S.L, Philipsburg.
Gladys was born on July 21, 1915, in Avis, a daughter of the Late Oscar and Charlotte (Brown) Lindberg.
She was a 1933 graduate of the former Cooper Township High School.
Gladys was married on June 6, 1937, in Lance, to George W. Meyer, who preceded her in death on January 19, 1973.
She was a member of the First Evangelical Lutheran Church, Philipsburg; and a former member of both the Philipsburg State General Hospital Auxiliary and the Philipsburg Junior Women's Club.
Gladys enjoyed the outdoors and flower gardening.
Gladys is survived by three daughters: Jackie Fosselman and her husband, Jess of Mechanicsburg, Georganna Sayers and her husband, Tom, of Philipsburg and Connie Logan and her husband, Don of Camp Hill; five grandchildren: Kirsten Dickerson, of Austin, Texas, Erica Black, of Waco, Texas, Gretta Slossberg, of Camp Hill, Shana Slossberg, of Duncannon and Carly Sayers, of Princeton, New Jersey; six great-grandchildren; one sister, Gloria Emmanuelson, of Glastonbury, Connecticut; one brother, Earl Lindberg, State College; and numerous nieces and nephews.
Gladys was preceded in death by her parents; husband; one daughter, Patricia Meyer Anderson; two brothers, Walter and Devine Lindberg and two sisters, Anna Curto and Ebby Lutz.
Memorial contributions may be made to the First Evangelical Lutheran Church, Laurel & Third Streets, Philipsburg, PA 16866; Windy Hill Village, PSL, P.O. Box 551 Philipsburg, PA 16866; or, to the charity of the donor's choice.
A private funeral service and interment was held by the family.  A public memorial service will be held at a future date and time to be announced.
The funeral arrangements are under the direction of the Beezer-Heath Funeral Home,  719 E. Spruce Street, Philipsburg.
Online condolences may be submitted at www.beezerheathfh.com.