Sandra L. McDonald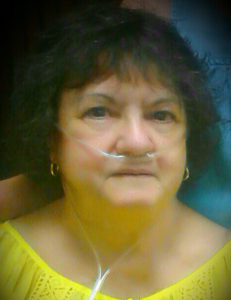 Sandra L. McDonald, 66, of (Pardee) RD Philipsburg, died Friday, July 7, 2017, at Geisinger Medical Center, Danville.
Born November 20, 1950, in Philipsburg, she was a daughter of George Burton Root, Sr. and Alice Faye (Stonebraker) Root, both of whom preceded her in death.
She was a 1968 graduate of the Moshannon Valley High School.
Sandra was employed with a couple of Philipsburg businesses during her working career. She was first employed as a sewing machine operator with Charles Navasky & Company. She was then employed in the food service department of Windy Hill Village, PSL, until her retirement.
Sandra enjoyed the company of her grandchildren and reading from her collection of books in her spare time.
She was married on June 28, 1969, in Madera, to John K. "Jack" McDonald, Jr., whom survives at home.
She is also survived by two sons, Kenneth J. McDonald and his fiancée, Susan Britain, of New Freedom and Brian L. McDonald and his wife, Marilynn, of Bellefonte; four grandchildren: Tyler and Nathan McDonald, both of Morrisdale, and Brittany and Brianna McDonald, both of Bellefonte; four step-grandchildren: Kiara, Justyn and Aaron McClusick, all of Bellefonte, and Hannah Britain, of New Freedom; five sisters: Donna Jean Aylward and her husband, James, of Bradford, Daisy M. Mosley, of Houtzdale, Cathy Roberts, of Philipsburg, Frances Elaine Owens and her husband, Mike, of Detroit, Michigan, and Pamela Hull, of Clearfield; four brothers, George Root and his wife, Rene, of Seattle, Washington, Howard Root and his wife, Paula, of Osceola Mills, David Root, of Brisbin, and Jeff Root and his wife, June, of Bradford; and a number of nieces and nephews.
Sandra was preceded in death by an infant sister, Cindy; and infant brother, Randy; and a brother Mark A. Root, in addition to her parents.
A memorial service will be held on Wednesday, July 12, 2017, at 3:00 pm at the Beezer-Heath Funeral Home, 719 E. Spruce Street, Philipsburg, with Pastor Doug Mellott, Officiating.
Visitation will be on Wednesday at the funeral home from 2:00 pm until the time of the memorial service.
Family and friends may make memorial contributions to the charity of the donor's choice in lieu of flowers.