Harry R. Litten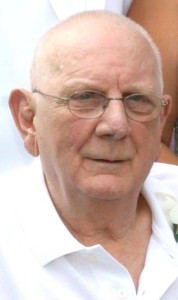 Harry R. Litten, 79, of Philipsburg went to be with his Lord on Friday, November 8, 2013 at the Mount Nittany Medical Center, State College.  He was a member of the First Church of Christ, Philipsburg; was a life member of the Reliance Fire Company, Philipsburg; and had served in the U.S. Army Reserves until his discharge in 1960.  Harry was an avid sports fan, not missing a Pittsburgh Pirates, Steelers or Penn State football game.  He also enjoyed hunting, fishing and spending time with his family.
Above all else, Harry never complained about the physical hardships life dealt him.  He was truly a great man with a wonderful sense of humor.  He will be deeply missed.
He was the son of the late Glenn & Maggie (Myers) Litten, born on June 1, 1934 in West Decatur, PA.  He married the former Doris Jean Flegal on February 23, 1960 in Winburne by Rev. Zinz.  She survives him at home.
He had been employed as a housing supervisor at the Pennsylvania State University for over 30 years, until his retirement.  He attended the Philipsburg High School and was very proud when he returned and earned his GED degree.
In addition to his parents, he was preceded in death by: three sisters, Fran, Peg and Marg; and four brothers, Bob, Bill, Jimmy and Jackie.
Along with his wife, he is survived by: two daughters, Kathy Billotte & her husband, Greg of Frenchville, PA and Karen Hunter & her husband Eric of Harrisburg, PA; two sons, Robert Litten & his wife Carol of Clearfield, PA and Harry Litten & his wife Jill of Bridgeville, DE; and a brother Cecil Litten of Niagara Falls, NY.  He is also survived by seven grandchildren: Stacey Miller & her husband Seth, Chris Litten & his wife Michele, Kaylee Miller & her husband Matt, Cody Billotte, Ian Hunter, Tara Wilson & her husband Derrick, and Josh Litten; nine great-grandchildren; and several nieces & nephews.
The Funeral Service will be at 11:00 a.m. on Wednesday, November 13, 2013 at the Beezer-Heath Funeral Home, 719 E. Spruce St. Philipsburg, PA.  Rev. Timothy D. Richmond will officiate.  Burial will be at the Allport Cemetery in Allport, PA.
Visitation will be Tuesday, November 12, 2013 from 5:00-8:00 p.m. and on Wednesday from 10:00-11:00 a.m. at the funeral home.
Military honors will be accorded at the funeral home, Wednesday, by members of the Moshannon Valley Independent Honor Guard.
Memorial contributions may be made to:
Holt Memorial Library
17 N. Front St.
Philipsburg, PA 16866
or
Reliance Fire Company
319 N. Centre St.
Philipsburg, PA 16866
Friends may sign the guestbook at: beezerheathfh.com.