James C. Laws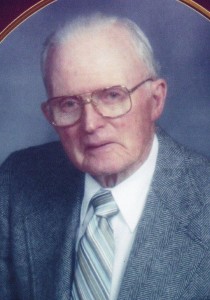 James C. Laws, 95, of Philipsburg, PA died on Friday, September 5, 2014 at Windy Hill Village in Philipsburg, PA.
Born on December 25, 1918 in Philipsburg, PA, he was the son of the late James M. & Laura (Schiele) Laws.  He married the former Margaret Jane "Peg" Dugan on August 20, 1946 in Philipsburg, PA; she preceded him in death on January 22, 2012.
He was a member of St. Paul's Episcopal Church, Philipsburg, PA.  He was also a member of Moshannon Lodge #391, Free & Accepted Masons; Veterans of Foreign Wars, Lewis Jenkins Post #3450; and the B.P.O. Elks #1173, all of Philipsburg, PA.  Mr. Laws was a member of the Woodduck Chapter of Trout Unlimited and the Ruffed Grouse Society.  He was an Army veteran of W.W.II, serving in the European theatre as a staff sergeant in the field artillery.  Mr. Laws was an avid hunter and fisherman who spent many days with his daughter, son and friends.  He was a well known saw sharpener for area residents after his retirement.  Mr. Laws was employed with the U.S. Postal Service in Philipsburg, PA until his retirement in 1974 and was a 1935 graduate of the Philipsburg High School.
In addition to his parents and wife he was preceded in death by: a sister, Myrtle Ball; and an uncle William C. Schiele.  He was the last of his generation.
Mr. Laws is survived by: a daughter, Jennifer R. Laws-Gilham & her husband James "Lew" of Philipsburg, PA; a son, James J. "Jeff" Laws & his wife Susan of Dickerson, MD; and two grandchildren, Kaitlin M and Michael J. Laws, both of Maryland.
A memorial service will be held at 1:00 p.m. on Thursday, September 11, 2014 at the chapel at Windy Hill Village, 100 Dogwood Drive, Philipsburg, PA; with Rev. Dr. Mary Jo Bruinooge officiating.  Burial will be at the Philipsburg Cemetery in Philipsburg, PA.
Mr. Laws' family will receive friends at the Windy Hill Village chapel on Thursday from 12:00 p.m. until the time of the service at 1:00 p.m.
Military honors will be accorded by members of the Moshannon Valley Independent Honor Guard.
Memorial contributions may be made to:
Valley Voices Community Chorus
236 Smith Street
Philipsburg, PA 16866
OR
Ruffed Grouses Society
451 McCormick Road
Coraopolis, PA 15108
Friends may sign the guestbook at: beezerheathfh.com.