Bonita "Bonnie" L. Laird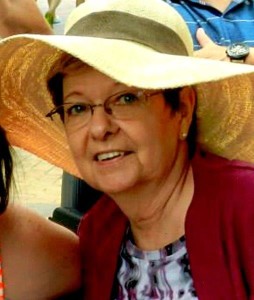 Bonita "Bonnie" L. Laird, 64, of Philipsburg, PA died on Saturday, March 8, 2014 at her residence.
She was the daughter of the late Earnest and Elva (Hoover) Kerfoot, born on January 5, 1950 in Philipsburg, PA.  She married Robert L. Laird on February 11, 1978 in Philipsburg, PA; he survives at home.
Bonnie was a member of Trinity United Methodist Church in Philipsburg, PA.  She had been employed with Charles Navasky and Company in Philipsburg for over 40 years retiring in 2012.  Bonnie was a 1967 graduate of the Philipsburg-Osceola Area High School.
In addition to her parents, she was preceded in death by a brother, E. Glenn Kerfoot, Sr.
Along with her husband, Bonnie is survived by: four daughters, Amber L. Zaremsky & her husband David of Winder, GA,  and triplet daughters, Bobbie L. Rabuck & her husband Ryan, of Philipsburg, PA; Chrissy L. Long & her husband Duane, Jr. of Philipsburg, PA and Dana L. Hawkins & her husband Thomas of West Decatur, PA; a son Zachery R. Laird of Philipsburg, PA; and a brother, Ronald M. Kerfoot and his wife, Kathryn of Berwick, PA.  She is also survived by: five grandchildren, Kyle M. and Joseph T. Hawkins of West Decatur, Bennett R. Rabuck of Philipsburg, Devin M. and Corbin L. Long of Philipsburg; and numerous nieces and nephews.
The Funeral Service will be held at 11:00 a.m. on Wednesday, March 12, 2014 at the Beezer Heath Funeral Home in Philipsburg, PA; with Rev. Brenda K. Leigey officiating.  Burial will be at the Philipsburg Cemetery in Philipsburg, PA.
Visitation will be on Tuesday, March 11, 2014 from 2:00 – 4:00 p.m. and 6:00 – 8:00 p.m. at the funeral home.
Memorial contributions may be made to:
American Cancer Society
123 S. Sparks Street
State College, PA 16801-3915
OR
Trinity United Methodist Church
PO Box 465
Philipsburg, PA 16866
Friends may sign the guestbook at: beezerheathfh.com.