Muriel T. Kyler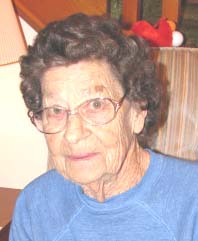 The end of a generation.  The last of the 13 Thompsons has gone home to be with the Lord.
Muriel T. Kyler, 88, of Sandy Ridge, formerly of West Decatur, died Thursday, October 20, 2016, at Windy Hill Village, P.S.L., RD Philipsburg.
Born December 30, 1927, on the Thompson family farm in West Decatur, she was a daughter of the late Charles and Lula (McDowell) Thompson.
Muriel was of the Christian faith.  She was a 1946 graduate of the former Philipsburg High School. 
Muriel was married on September 27, 1954, at a ceremony in Philipsburg, to Leional P. Kyler; her faithful husband who preceded her in death on June 22, 1992.
She was employed with the former Claster's, (now Your Building Center), of Philipsburg, for numerous years until retiring in July, 1984.
In addition to her parents and husband; Muriel was preceded in death by three sisters:  Irene Watkins, Doris Hafer and Bernice Kolbe; nine brothers: Robert, Fred "Hick", Leroy "Gee",  Burtis, Leo, Charles "Chuck", Roland, Ralph and Clinton Thompson.
She is survived by a daughter, Kathy Protano and her husband, Tom, of Sandy Ridge; a son, Barry Kyler, of West Decatur; six grandchildren: Abby Lee and her husband, Jeff, of Bozeman, Montana, Adam Protano and his wife, Rena, of El Segundo, California, Kristopher Protano, of Walden, New York, John Berquist and his wife, Jennifer, of Sumner, Texas, Craig Kyler, of West Decatur, and Robbie Kyler and his wife, Samantha, of West Decatur; six great-grandchildren: Dakota Berquist, Caiden Kyler, Maylee Kyler, Addison Lee, Jackson Lee and Bobbie Sue Kyler; and numerous nieces and nephews.
A memorial service for Muriel will be held on Saturday, April 8, 2017, at 11:00 am at the Beezer-Heath Funeral Home, 719 E. Spruce Street, Philipsburg, with Pastor Tina Hawkins, Officiating.
Interment will be in Crown Crest Memorial Park, Hyde.
The funeral arrangements are under the direction of the Beezer-Heath Funeral Home, 719 E. Spruce Street, Philipsburg.