Marcella Marie Kopchik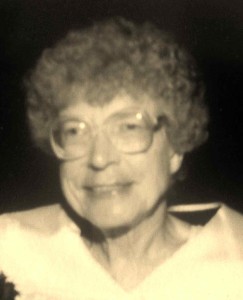 Marcella Marie (Deliman) Kopchik, 84, of (North) Philipsburg, passed away at her home on Monday, August 18, 2014, peacefully surrounded by her family and friends.
Marcella was born September 25, 1929, in Winburne, a daughter of the Late Michael and Mary (Braznock) Deliman.
She graduated from the former Cooper Twp. High School in 1947; and she graduated from the Philipsburg State General Hospital, School of Nursing in 1950.
On October 28, 1950, in Winburne, she wed John L. Kopchik, her husband of 64 years, who survives at home. Marcella was a life-long member of Saints Peter & Paul Catholic Church, and a member of the First Catholic Slovak Union, Branch #456, both of Hawk Run.
She worked as a RN at the former Philipsburg State General Hospital and as a private duty nurse from 1950 to 1987. Among her hobbies that she enjoyed were reading, cooking, organic gardening of both vegetables and flowers, canning, bee-keeping for a number of years with her husband, and volunteering with her husband at the former Philipsburg Area Hospital. She also faithfully coordinated the reunions for her nursing school class for many years.
Marcella and her husband enjoyed a train trip across the country in the mid 1990's going out west to visit children to the states of Washington, Oregon, and California; and then to South Carolina in 2000.
In addition to her husband, she is survived by four children: John M. Kopchik and his wife, Joanne, of Cowpens, SC, Gerard Kopchik of Winter Garden, FL, Mary (Kopchik) Easton of Maple Valley, WA, and Annette Gill and husband, Tom, of Riverside, CA; one brother John M. Deliman and his wife, Delores, of Chester Hill; a sister-in-law, Rosemary Deliman, of Philipsburg; five grandchildren: John A. Kopchik and his wife, Andrea, of Elliottsburg, PA, Danielle (Kopchik) Powell and her husband, Vince, of Houtzdale, PA, Karuna McMurtry of Wasilla, AK, Dolma Maria Halstead of Seattle, WA, and Carmichael Halstead of Maple Valley, WA; three step-grandchildren: Curt, of Canton, MI, Kevin, of Commerce Township, MI, and Angela (Angie), of Fort Wayne, IN; seven great-grandchildren: Courtney, Harley, Ashlyn, Chase, Christopher, Justin, and Makayla; six step-great grandchildren: Tommie, Jacob, Braden, Lilly, Carter, and Mia; and numerous nieces and nephews.
In addition to her parents, she was preceded in death by one infant brother; one brother, Michael J. Deliman, who passed away on Oct 8, 1996; and a son, Michael A. Kopchik, who served with the USMC in Vietnam, who passed away at age 50.
Visitation will be on Thursday, August 21, 2014, from 5:00 to 7:00 pm, at the Beezer-Heath Funeral Home, 719 E. Spruce Street, Philipsburg. The Rosary will be recited by the Saints Peter & Paul Rosary Society at 6:30 pm on Thursday at the funeral home.
A Mass of Christian Burial will be Celebrated on Friday, August 22, 2014, at 10:00 am at Saints Peter & Paul Catholic Church, Hawk Run, with Rev. Joseph Staszewski, Celebrant.
Interment will be at Saints Peter & Paul Catholic Cemetery, Hawk Run.
The family suggests memorial contributions be made to the charity of the donor's choice.
Friends may sign the guestbook at:  beezerheathfh.com.