Patricia L. Komisar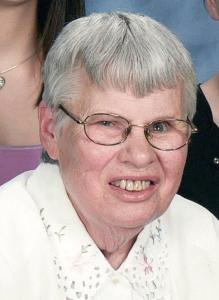 Patricia L. Komisar, 85, of Philipsburg, PA died on Wednesday, October 29, 2014 at her residence.
Born on January 23, 1929 in Windber, PA, she was the daughter of the late Thomas & Mary (Novak) White.  She married Joseph Komisar, Jr. on May 28, 1946 in Cumberland, MD; he preceded her in death on November 10, 2005.
She  was a member of the Saints Peter & Paul Catholic Church in Philipsburg, PA for 50 years.  She was also a member of the American Nursing Association, Local 708 and has served as president of the Pennsylvania Nursing Association at Clearfield Hospital for 10 years.
Mrs. Komisar was a registered nurse, having worked at Clearfield Hospital and later as a hospice nurse with Clearfield Hospital Home Health-Hospice until her retirement.  She was a 1946 graduate of Windber High School and a graduate of the Philipsburg State General Hospital School of Nursing, where she was named salutatorian of both graduating classes.
In addition to her parents and husband, she was preceded in death by: a sister, Kathleen Coult; and a son-in-law, Robert Johnsonbaugh.
Mrs. Komisar is survived by: three daughters, Kathleen A. Johnsonbaugh of Troy, MI, Patricia Komisar & her husband Donald Domanick of Grassflat, PA and Mary L. Komisar of Philipsburg, PA; two sons, Thomas F. Komisar of Edison, NJ and Joseph J. Komisar of Philipsburg, PA; and three sisters, Helen Martell & her husband Bill of Punta Gorda, FL, Betty Jane Renaldi & her husband Henry of Windber, PA and Christine Juliard & her husband Pierre of Brookfield, CT.  She is also survived by: a daughter-in-law, Kate Komisar of Philipsburg, ten grandchildren, Noelle Lucas, Patricia Matz, Elizabeth Heisey, Jonathan, Jennifer, Tim, Jim, Joey, Sarah and Mary Kate Komisar; five great-grandchildren; and numerous nieces and nephews.
The Funeral Mass will be celebrated at 10:00 a.m. on Monday, November 3, 2014 at Saints Peter & Paul Catholic Church in Philipsburg, PA; with Rev. Robert J. Kelly, celebrant.  Burial will be at Saints Peter & Paul Cemetery in Philipsburg, PA.
Visitation will be Sunday, November 2, 2014 from 6:00 – 8:00 p.m. at the Beezer-Heath Funeral Home in Philipsburg.
The rosary will be recited at 6:30 p.m. on Sunday at the funeral home.
Memorial Contributions may be made to:
Penn Highlands Clearfield Home Health and Hospice
PO Box 992
Clearfield, PA 16830
OR
Clearfield County SPCA,
275 21st Street
Clearfield, PA 16830
Friends may sign the guestbook at beezerheathfh.com.