Joshuah George Kline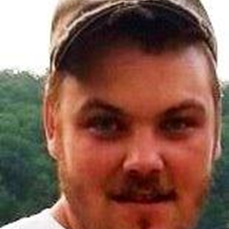 Joshuah George Kline, 25, of Chester Hill, PA died on Monday, May 12, 2014 in Decatur Township as a result of a motor vehicle accident.
Born on July 24, 1988 in Philipsburg, PA, he was the son of Joseph & Lisa M. (Kline) Suhoney, who survive of Chester Hill.
He was a member of the Central Pennsylvania Tax Doctors softball team and held a son of a veteran membership with the AMVETS, Post 159 in Philipsburg.  Joshuah also loved hunting and fishing.  He was currently employed with H & R. Excavating of State College, PA, and was a 2006 graduate of the Philipsburg-Osceola Area High School.
Joshua was preceded in death by his maternal grandfather, George E. Kline, III and his paternal grandfather, Frank Early Suhoney, Sr.
He is survived by: his fiancee, Keila M. Trump and his future step-son, Kaiden W. Trump, both of Osceola Mills, PA; a sister, Alysha Marie Suhoney of Chester Hill, PA; and two brothers, Ryan Michal Kline, Sr. & his fiancee, Amanda R. Ferguson of Chester Hill, PA and Devyn Joseph Suhoney of Chester Hill, PA.  Joshua is also survived by: his maternal grandmother, Carol (Shaw) Kline of Philipsburg; paternal grandmother, Patricia (Philips) Suhoney of West Decatur; step-grandmother, Tammy Suhoney of Chester Hill; step-grandfather, Martin L. Ishler of West Decatur; a nephew, Ryan Michael Kline, Jr. of Chester Hill; a niece Jordyn M. Kline of Chester Hill; and a cousin to whom he was especially close, Ashley a. Kline of Philipsburg.
The funeral service will be held at 11:00 a.m. on Saturday, May 17, 2014 at the Beezer-Heath Funeral Home in Philipsburg, PA; with Rev. Timothy D. Richmond officiating.  Burial will be at the Philipsburg Cemetery in Philipsburg, PA.
Visitation will be Friday, May 16, 2014 from 2:00 – 4:00 p.m. and 6:00 – 8:00 p.m. and on Saturday from 9:00 – 11:00 at the funeral home.
Memorial contributions in memory of Joshuah may be made to:  Beezer-Heath Funeral Home, 719 E. Spruce St., Philipsburg, PA 16866.
Friends may sign the guestbook at: beezerheathfh.com.