Eleanor E. Kephart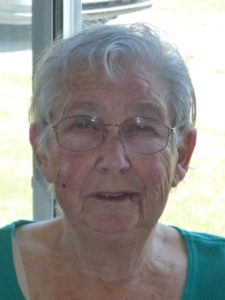 Eleanor E. Kephart, 87, of (Litz Bridge) RD Clearfield, died Wednesday, September 21, 2016, at Penn Highlands Clearfield.
Born September 16, 1929, in (Graham Station) RD Philipsburg, she was a daughter of the late Bertrum and Edith (Graffius) James.
Eleanor and her family lived in Hawk Run during her childhood years.  She was a graduate of the former Morris Township High School, Morrisdale.
During the early part of her working career, Eleanor enjoyed working in the hardware department of the McCrory's 5 & 10 Store in Philipsburg. A few years after high school, in 1953, she would move south to help set up and open a McCrory's on Florida's Gulf Coast.
However, she soon returned to Philipsburg and on June 18, 1955, she married Harold Kephart at the Church of God in Brisbin.
Eleanor and Harold first lived for a short time in Niagara Falls.  They would then move back to the Clearfield area and Eleanor accepted a secretarial position at the former business of Walter Levin in Philipsburg.  Eleanor would spend the rest of her working career at Walter Levin until it closed for business.
Eleanor enjoyed traveling with her husband to visit with their children.  One of her most memorable trips was to Germany to visit their daughter and son-in-law, Lori Ann and Virgil, for the birth of their first child, Elise.  In recent years, she enjoyed going for a ride in the convertible to see the mountain laurel in bloom and to visit her favorite places that held such fond memories.
In addition to her daughter, Lori Ann Barnes and her husband, Virgil, of Morrow, Ohio; Eleanor is survived by a son, Bruce Kephart, of (Litz Bridge) RD Clearfield; two grandchildren, Elise (Barnes) Sweeney and her husband, Kyle, of Arlington, Virginia, and Sean Barnes, of Morrow, Ohio; one brother, Thomas James and his wife, Celeste, of (Shiloh) RD Woodland; and numerous nieces and nephews.
Eleanor was preceded in death by her parents.  She was also preceded in death by her husband, Harold, on April 15, 2009.
The funeral service will be on Saturday, September 24, 2016, at 2:00 pm at the Beezer-Heath Funeral Home, 719 E. Spruce Street, Philipsburg, with Lay Minister Virgil Barnes, son-in-law of the deceased, Officiating.
Visitation at the funeral home will be on Friday, September 23, 2016, from 6 to 8 pm; and on Saturday, from Noon until the time of the funeral service.
Interment will be in IOOF Cemetery, Brisbin.
Family and friends may sign the online guestbook and share memories at beezerheathfh.com