William H. "Zero" Kennedy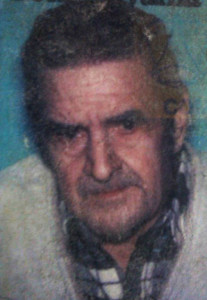 William H. "Zero" Kennedy, 84, of Philipsburg, PA died on Thursday, April 3, 2014 at U.P.M.C in Altoona, PA.
He was the son of the late William E. and Anna Mae (Casper) Kennedy, born on April 23, 1929 in Philipsburg, PA.

Mr. Kennedy served in the U.S. Army and was a truck driver while stationed in the Philippines.  He also loved going to camp, playing cards with his buddies and visits with his old friend, Husler.  He was a mason by trade until retiring and a graduate of the Philipsburg High School.
In addition to his parents, he was preceded in death by: a son, Eric Lynn Baker; a brother, Carl Kennedy; three grandchildren, Logan Baker, Levi Baker and Joel Adams; and a niece, Krista Kennedy.
Mr. Kennedy is survived by: three daughters, Debbie Dellinger & her husband Phil of Haysville, KS, Tuesday Baker of Chester Hill, PA and Vanessa Baker of Coventry, RI; five sons, Robert Baker of Greenville, SC, Jeffrey Kennedy & his wife Kathy of Irvona, PA, Terry Banker & his wife Jane of Clearfield, PA, Stephen banker & his wife Jennifer of Dover DE, and Nicholas Kennedy & his companion, Sherry of Philipsburg, PA; three sisters, Joyanne "Tues" Kennedy of Philipsburg, PA, Marilyn "Mer" Slother of Philipsburg, PA and Chrstine "Teena" Horner & her husband Stan of Hagerstown, MD; and a brother John Kennedy and his wife Susan of Philipsburg, PA; twenty-one grandchildren; nineteen great-grandchildren; one great-great grandchild; and several nieces and nephews.
Funeral services will be held at the convenience of the family.
Arrangements are under the direction of the Beezer-Heath Funeral Home in Philipsburg, PA.
Memorial contributions may be made to the Philipsburg Food Bank, c/o Philipsburg Community Action, 14 South Front Street, Philipsburg, PA 16866.
Friends may sign the guestbook at: beezerheathfh.com.