Marie Johnson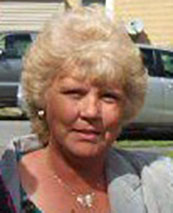 Vivian Marie Johnson, 57, of Philipsburg, died Sunday, April 2, 2017, at her residence.
Born September 3, 1959, in Clearfield, she was a daughter of the late William and Vivian (Curtis) Condon.
She was of the Methodist faith.
Vivian was employed as an in-home care giver until her illness required her retirement.
Vivian was married in 1978, in Clearfield, to Andrew J. "Jim" Johnson, whom survives at home.
She is also survived by one daughter, Hayley Marie Johnson,(at home); four sons: Zachary Tyler Johnson, (at home), Brian Lee Johnson, Shawn Allen Johnson and Michael James Johnson and his fiancée, Melissa (Fuls), of Bellefonte; three sisters: Betty Franek, of Olanta, Jackie McGee and her husband, Sam, of Clearfield and Peggy Larson and her husband, Dave, of Clearfield; three brothers: Chris Condon and his companion, Audrey, of Clearfield, Leland "Buddy" Condon and his wife, Sandy, of Clearfield and William "Bill" Condon and his wife, Janet, of Woodland; two grandchildren; and a number of nieces and nephews.
Vivian was preceded in death by one son, Andy J. Johnson; one sister, Reba Williams and one brother, Ronnie Condon, in addition to her parents.
A funeral service will be held on Thursday, April 6, 2017, at 7:00 pm at the Beezer-Heath Funeral Home, 719 E. Spruce Street, Philipsburg, with Rev. Brenda K. Leigey, Officiating.
Visitation will be on Thursday from 5:00 pm until the time of the service at the funeral home.
Memorial contributions may be made in Vivian's memory to the Beezer-Heath Funeral Home, 719 E. Spruce Street, Philipsburg, Pa 16866.