Zachary R. "Zac" Johns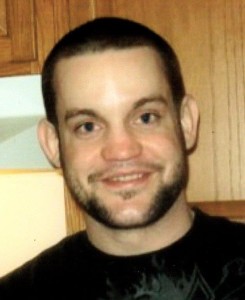 Zachary R. "Zac" Johns, 28, of West Decatur, PA passed away on Friday, August 30, 2013 in Philipsburg, PA.
He was the son of Neal C. Johns & his wife Kristine of State College, PA and Claudia L. (Phillips) Johns & her companion, William McGuire, Jr. of West Decatur, PA.  He is survived by his fiancee and mother of his unborn child, Bridget J. Schnarrs of Hawk Run, PA.
Mr. Johns was a protestant by faith, a member of the Moshannon Valley YMCA and was a member of the American Martial Arts, Tang Jitsu of Philipsburg.  Zac was an avid Penn State and Philadelphia Eagles football fan.
He was currently employed with the McDonald's Restaurant in Philipsburg.  He was a 2003 graduate of the Philipsburg-Osceola Area High School and attended SKILLS.  He had also attended Clarion University.
Mr. Johns was preceded in death by:  his paternal grandparents, Forrest and Carrie (Thompson) Johns; maternal grandfather, Lloyd Turner; and an uncle, Timothy Phillips.
He is survived by: three sisters, Alyssa Johns of State College, PA, Annabelle Johns of State College, PA, and Taylor Johns & her fiancee Mason Confer of Grassflat, PA; and two brothers, Mason McGuire, West Decatur, PA and Michael Stratton & his wife Brittany of Houtzdale, PA.  He is also survived by:  his maternal grandmother, Lois Phillips of  Philipsburg; an uncle, Bryan Johns of Orlando, FL; an aunt, Adrienne Jury & her husband, Shawn of Philipsburg; a nephew, Owen Confer and a niece, Kalee Confer, both of Grassflat; and numerous cousins.
The Funeral Service will be held at 11:00 a.m. on Friday, September 6, 2013 at the Beezer-Heath Funeral Home in Philipsburg, PA, with Pastor Tina M. Hawkins officiating.  Burial will be at the Centre Cemetery in R.D. Osceola Mills, PA.
Visitation will be Thursday, September 5, 2013 from 4:00 – 8:00 p.m. and from 10:00 – 11:00 a.m. at the funeral home.
Donations in memory of Zac may be made to Beezer-Heath Funeral Home, 719 E. Spruce St., Philipsburg, PA 16866.
Friends may sign the guestbook at: beezerheathfh.com.