Dennis Ray "Denny Ray" Hollabaugh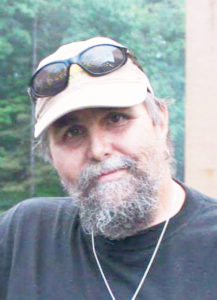 Dennis Ray "Denny Ray" Hollabaugh, 60, of Philipsburg, died Monday, February 6, 2017, at his residence.
Born September 11, 1956, in Philipsburg, he was a son of the late Theodore O. Hollabaugh, Sr. and Rebecca F. "Peggy" (Clark) Hollabaugh.
He was a graduate of Streetsboro High School, Streetsboro, Ohio.
He was employed in a number of different fields during his working career; including: Construction and General Laborers Union, Local 824, Bellefonte, the former C-COR Corp, State College and most recently with J&L Trucking, Clearfield.
Denny Ray was married on November 19, 2016, in Philipsburg, to the former Susan M. "Sue" Neff, whom survives at home.
He is also survived by four daughters: Aimee J. Gardner and her husband, Jermaine, of (South) Philipsburg, Angel D. Hollabaugh, of (Frenchtown) RD Osceola Mills, Tiffany M. Schaffer, of (South) Philipsburg and Trisha A. Schaffer, of Julian; one son, Dennis Ray Hollabaugh, Jr., of Osceola Mills; four grandchildren: Nathan Yeager, Meisha Jackson, Jacob Yeager and Theodore O. "Teddy" Hollabaugh, III; two sisters, Judy Fry and her husband, Robert, of Spring Hill, Florida and Nancy Ann Jones and her husband, Michael, of Ravenna, Ohio; and a number of nieces and nephews.
Denny Ray was preceded in death by his parents; three brothers: Theodore O. Hollabaugh, Jr., David J. Hollabaugh and William S. Hollabaugh; and two nieces, A. Chenoa Hollabaugh and Courtney N. Hollabaugh.
A private memorial service will be held at the convenience of the family. There will be no public visitation.
Memorial contributions may be made in Denny Ray's memory to the Beezer-Heath Funeral Home, 719 E. Spruce Street, Philipsburg, Pa 16866
Family and friends may sign the guestbook and share memories at www.beezerheathfh.com.