M. Madeline Hassinger
1916 —  2016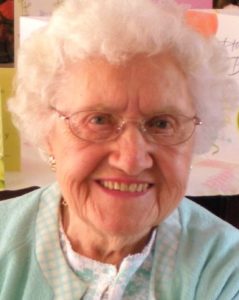 LEWISTOWN- M. Madeline Hassinger, 99yrs. 10mths, of Lewistown, and formerly of (Windy Hill) RD Philipsburg, died Sunday, August 21, 2016, at 7:20 am, at Geisinger – Lewistown Hospital, Lewistown.
Born October 22, 1916, in Morrisdale, Madeline was a daughter of the late John and Rachel (Price) Burge.
Ms. Hassinger was a member of the Church of Christ, RD Morrisdale, and the Morrisdale United Methodist Church.
She was a 1936 graduate of the former Morris Township High School, Morrisdale.
Madeline was married to Harry W. Hassinger, whom preceded her in death on November 21, 1983.
She was employed for many years as a dietary aide in the dietary department of the former Philipsburg State General Hospital, until her retirement.
Madeline is survived by a daughter, Donna H. Hughes and her husband, Alfred, of Lewistown; a son, John W. "Jack" Hassinger, and a daughter-in-law, Sandy Hassinger, both of Philipsburg; five grandchildren: Shari Hughes, of Lewistown, Jeff Hughes, of State College, Dan Hughes and his wife, Mary, of Loganville, John Hassinger, Jr., of Philipsburg, and Patricia McCormick and her husband, Francis, of Drexel Hill; five great-grandchildren: Jonnie and Emma Hughes, both of Loganville, Francis, Jr. and Elaina McCormick, both of Drexel Hill, and Riley Hassinger, of Philipsburg; one brother, James Burge and his wife, Edna, of Morrisdale; and numerous nieces and nephews.
Along with her parents, Madeline was preceded in death by her husband, Harry; one grandson, David A. Hughes; four sisters: Mary Acton, Helen Waring, Geraldine Pellow, and her twin sister, Mildred Witters; and two brothers, Norman and Calvin Burge.
The funeral service will be held on Wednesday, August 24, 2016, at 2:00 pm, at the Beezer-Heath Funeral Home, 719 E. Spruce Street, Philipsburg, with the Rev. Karen McCachren, Officiating.
Family and friends will be received on Wednesday, August 24, 2016, from 1:00 pm until the time of the service at the funeral home.
Interment will be at Philipsburg Cemetery, Philipsburg.
Memorial contributions in Madeline's memory may be made to WPSU (TV), 151 Outreach Bldg., University Park, Pa 16802, online at www.wpsu.org or to the charity of the donor's choice.
Family and friends may sign the online guestbook and share memories at www.beezerheathfh.com