Anna M. Haines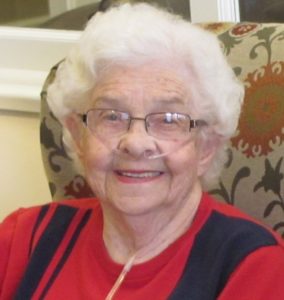 Anna M. Haines, 97, of Bellefonte, and formerly of Philipsburg, died Friday, February 10, 2017, at Eagle Valley Personal Care Home, Milesburg.
Born August 8, 1919, in (Sanborn) RD Houtzdale, she was a daughter of the late Clark W. and Lydia J. (Anderson) Baughman.
She was married on May 1, 1935, in West Decatur, to Iman P. Haines, whom preceded her in death on December 16, 1995.
She was a member of Grace United Methodist Church, Philipsburg.
Anna was employed as a nursing assistant at the former Philipsburg State General Hospital for 22 years until her retirement.
She enjoyed reading in her spare time.
In addition to her parents and husband, Anna was preceded in death by a daughter, Avanell DeVito; a son, Dale Haines; a grandson, Mark Haines; three sisters: Mabel Swistock, Velma Good and Doris Jane Baughman; and one brother, Warren "Skiff" Baughman.
She is survived by two daughters, Linda L. Clark and her husband, John T., of Greenville, North Carolina and Louise A. Walker and her husband, David L., of Bellefonte; nine grandchildren: Michael Haines and his wife, Yvonne, Laura DeVito, David Haines, Stephanie Haines, Matthew Clark and his wife, Dee, Rachel Moore, LeAnn Showers and her husband, Scottie, Allen Clark and his wife, Courtney and Bethany Goodyear and her husband, Bradley; eighteen great-grandchildren; one sister, Ethel V. Deardorff; and one sister-in-law, Kathryn Tutokey and her husband, Edward.
A funeral service will be held Tuesday, February 14, 2017, at 11:00 am, at Grace United Methodist Church, 912 E. Pine Street, Philipsburg, with Rev. Michelle Bodle, Officiating.
Visitation will be at the church on Tuesday from 10:00 am until the time of the funeral service.
Interment will be in Philipsburg Cemetery, Philipsburg.
Memorial contributions may be made in Anna's memory to Grace United Methodist Church, 912 E. Pine Street, Philipsburg, Pa 16866.
The arrangements are under the direction of the Beezer-Heath Funeral Home, 719 E. Spruce Street, Philipsburg.