Lillian D. "Lil" Haggerty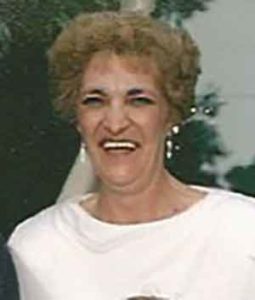 Lillian D. "Lil" Haggerty, 73, of DuBois, and formerly of the Philipsburg – Osceola Mills and Reading areas, died Tuesday, July 25, 2017, at the DuBois Nursing Home.
Born October 19, 1943, in Ramey, she was a daughter of Fred and Charlotte Mae (Greene) Wilks, both of whom preceded her in death.
Lillian was a 1961 graduate of the Clearfield High School. She was also a graduate of the medical secretary program at the DuBois Business College.
She was employed as both a medical secretary and a waitress throughout her working career in the Clearfield and then the Reading areas.
Lillian was of the Christian faith. She enjoyed reading her Bible and her daily Scripture passages. She also enjoyed a number of activities that included: watching NASCAR races, game shows and her favorite Lifetime Channel movies on television; playing bingo and online computer games; visiting with her grandchildren and talking on the phone with her sisters.
She is survived by two daughters, Lori Dumm and her husband, Patrick, of Kenhorst, and Cheryl Green, of Hawk Run; two sons, Larry "Cubby" Kephart, Jr., of Philipsburg and Michael Kephart, of Clearfield; ten grandchildren: Jason and Rachel Kephart, both of Boca Raton, Florida, Paul Thompson, of South Korea, Cierra Moll and her husband, Jordan, and Ryan Tuckey, all of Kenhorst, Brealee and Kieren Kephart, both of Clearfield, and Morgan, Clayton and Seth Green, all of Hawk Run; one great-grandson, Tyler Kephart, of Boca Raton, Fla., and one great-grandson, "on the way"; five sisters: Wanda McGlynn and her husband, Tom, of Parsonville, Donna Plumb, of Brooksville, Florida, Connie Smith and her husband, Bob, of Greencastle, Judy Phillips and Sharon Rowles, both of Clearfield; two brothers, Fred Wilks and his wife, Susan, of Graham Station, and Larry Wilks and his wife, Betty, of Osceola Mills; and a number of nieces and nephews. Lillian is also survived by her former husband, Dale Haggerty, of Clearfield. Dale, though no longer married to Lillian, remained her beloved companion at home until her health required her move to the nursing home.
A memorial service will be held on Friday, August 4, 2017, at 4:00 pm at the Beezer-Heath Funeral Home, 719 E. Spruce Street, Philipsburg, with Rev. W. Dean Krause, Officiating.
Visitation will be on Friday at the funeral home from 2:00pm until the time of the memorial service.
Burial will be in IOOF Cemetery, Brisbin.