Helen Gutch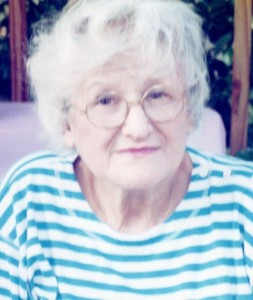 Helen Gutch, 99, of Hawk Run died Sunday, February, 8 2015 at her home.
Born on May 22, 1915 in Hawk Run, PA, she was the daughter of the late John and Anna Minarch.  She married Russel J. Gutch, Sr. on January 21, 1939 in Yonkers, NY.  He preceded her in death on October 27, 1995.
She was Greek Orthodox by faith and she had been employed with the cafeteria staff at Yonkers High School in Yonkers, NY until her retirement.  Mrs. Gutch especially enjoyed cooking, gardening, and spending time with her family.
In addition to her parents and husband she was preceded in death by four sisters and an infant brother.
Mrs. Gutch is survived by: three sons, Russell J. Gutch, Jr. & his wife Barbara Ann of Bellefonte, PA, John R. Gutch of Beaufort, SC and Anthony C. Gutch of Hawk Run; one sister, Natalie Sisler of Yonkers, NY; five grandchildren; nine great-grandchildren; and several nieces and nephews.
The funeral service will at 10:00 a.m. on Wednesday, February 11, 2015 at the Beezer-Heath Funeral Home, 719 East Spruce, Philipsburg, PA with Very Rev. Fr. Miles Zdinak officiating.  Burial will be at the Philipsburg Cemetery in Philipsburg, PA.
Visitation will be held on Wednesday, February 11, 2015 from 9:00 to 10:00 a.m. at the funeral home.
Memorial contributions may be made to the American Cancer Society; 26 South 2nd. Street, Clearfield, PA 16830.
Friends may sign the guestbook at beezerheathfh.com