Nicholas Gray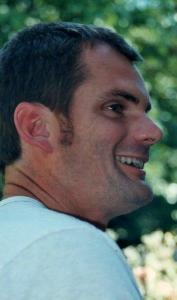 Nicholas Gray, 44, of Osceola Mills, PA died on Thursday, October 30, 2014 in Rush Township, Centre County, PA.
Born on December 21, 1970 in San Francisco, CA, he is the son of Wayne Gray of Albany, OR and Mary (Muller) Edleman of Savannah, GA.  He married the former Amy L. Raymond on April 30, 1994 in Monterey, CA; she survives at home.

He was a member of  Saints Peter & Paul Catholic Church in Philipsburg, where he was a member of the parish council and an Eucharistic minister.  Mr. Gray was a Navy veteran of Operation Desert Storm, a member of the Knights of Columbus, Holy Family Council #8701 in Morrisdale, and a member of the B.P.O.Elks #1173 in Philipsburg.  He was very active in youth soccer, having been a soccer coach for 15 years and was president of the United Futball Club of the Moshannon Valley.  He was also a referee for PA-West Soccer for 5 years.
Mr. Gray was the owner and agent of the Nicholas Gray Agency for Farmers Insurance in Chester Hill.  He was a 1989 graduate of Santa Rosa High School in  Santa Rosa, CA.
He was preceded in death by his maternal and paternal grandparents.
In addition to his Wife and Parents, Mr. Gray is survived by five sons, Alexander "Alex" Gray, Andrew "Andy" Gray, Garrett Gray, Daniel Gray and Ian Gray all of Osceola Mills.  He is also survived by: a brother, W. Michael Gray of San Francisco, CA; two half sisters; his father-in-law, Glenn Raymond & his wife, Jeannie of Osceola Mills; and his mother-in-law, Vicci Cuneo & her husband Kevin of Gearhartville, RD Philipsburg, PA.
The Funeral Mass will be celebrated at 11:00 a.m. on Tuesday, November 4, 2014 at Saints Peter & Paul Catholic Church in Philipsburg, PA; with Rev. Robert J. Kelly, celebrant.  Burial will be at the Umbria Cemetery in Osceola Mills, PA.
Visitation will be Monday, November 3, 2014 from 5:00-8:00 p.m. at the Beezer-Heath Funeral Home in Philipsburg, PA.
The rosary will be recited on Monday at 5:30 p.m. at the funeral home. Military honors will be accorded at the church by members of the Moshannon Valley Independent Honor Guard.
Memorial contributions may be made to the Wounded Warrior Project, P.O. Box 758517, Topeka, KS 66675.
Please sign the guestbook at beezerheathfh.com.