Wilbur E. "Bud" Gilham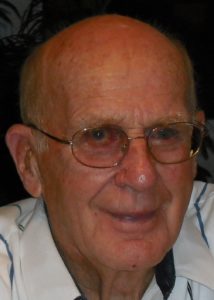 Wilbur E. "Bud" Gilham, 94, of Philipsburg, died Sunday, October 8, 2017, at his residence.
He was born February 21, 1923, in Philipsburg, a son of Ezekiel and Sue (Kelly) Gilham, both of whom preceded him in death.
Bud was a member of the First Baptist Church, and the B.P.O. Elks #1173, both of Philipsburg.
He was a 1941 graduate of the former Philipsburg High School. After high school, Bud served with the Army Air Corps as a Master Sargent during the Second World War.
After his service in the army, Bud furthered his education and received his Bachelor of Science Degree from the Indiana University of Pennsylvania and then his Master of Science Degree from the Pennsylvania State University.
His career as an educator spanned over thirty-five years; first as a teacher at Tyrone High School, and then he spent most of his career with the Philipsburg – Osceola Area School District until his retirement. While teaching 10th grade Biology at Philipsburg-Osceola, he started a summer outdoor education program for high school students. The program centered on conservation; it was a fieldtrip oriented activity. Many top scientists and educators participated. The program was so successful and ahead of its time, Penn State copied the program for the college level and the state of New Jersey adopted the premise for their state's conservation curriculum.
Bud was the first teacher in Pennsylvania to be certified as a Conservation Educator. Due to his conservation education work at the collegiate and high school levels, he was the first non-fish commission person to be given a permit to shock fish and do stream studies without fish commission oversight.
In 1962, he was chosen as the Outstanding Biology Educator for the states of Pennsylvania, New Jersey, and New York. He was also a retired member of the faculty at Penn State where he was an adjunct professor of outdoor education and conservation.
He had a role as an educator outside the classroom as well. He was well received at numerous local and regional speaking engagements throughout his career that included outdoor education topics such as: biology, wildlife, microclimates and outdoor survival.
He and his wife, Lorraine, lead the Jr. and Sr. High Youth Group at the First Baptist Church of Philipsburg for over 20 years. He also served on the varied boards of the church.
Bud was married on September 15, 1950, in Philipsburg, to the former Lorraine Selby, whom preceded him in death on August 15, 2017.
He was also preceded in death by two sisters, Trissie Schultz and Carrie Dobson; and six brothers: George McClelland, Lou, Marlin, Ray, Bob, and Casper Gilham, in addition to his parents.
Bud is survived by one son, Lynn A. Gilham and his wife, Mary K. Whitehead, of Philipsburg; two grandchildren, Laura Gilham, of Philipsburg and Kristopher Gilham and his wife, Krista, of Reading; two great-granddaughters, Alexa and Hannah Gilham, both of Reading; and two sisters, Sarah Simcox, of Philipsburg and Mary Scott, of Lewisburg.
Bud was an avid golfer, outdoorsman, backpacker, small game hunter, and he was an accomplished wildlife photographer and woodcarver.
A memorial service will be held Friday, October 20, at 1 PM at the First Baptist Church, 214 E. Beaver Street, Philipsburg, with Rev. Ted Seibert, Officiating.
Memorial contributions may be made in Bud's memory to the First Baptist Church, Memorial Fund, 214 E. Beaver Street, Philipsburg, Pa 16866.