Lorraine Gilham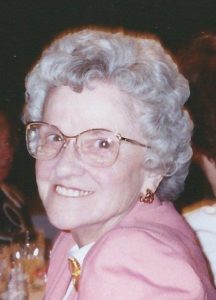 Lorraine Gilham, 98, of Philipsburg, died Tuesday, August 15, 2017.
Lorraine was born on October 4, 1918, in Pittsburgh, a daughter of Charles and Phoebe (Sleigh) Selby, both of whom preceded her in death.
She was a 1936 graduate of the former Philipsburg High School.
She was married on September 15, 1950, in Philipsburg, to Wilbur E. "Bud" Gilham, whom survives of Philipsburg.
She is also survived by one son, Lynn A. Gilham and his wife, Mary K. Whitehead, of Philipsburg; two grandchildren, Laura Gilham, of Philipsburg and Kristopher Gilham and his wife, Krista, of Reading; and two great-granddaughters, Alexa and Hannah Gilham, both of Reading.
She was preceded in death by one sister, Rhoda (Selby) McFeeters; and one brother, William Selby, in addition to her parents.
She was employed throughout her early working career as a bookkeeper for a number of former Philipsburg businesses, including: Lauderbach & Greist, McCroy's, Pennshire, Catherine's Grocery and Robert's Motors. After 15 years of service, she retired as a secretary for the Philipsburg – Osceola Area School District.
Lorraine was a lifelong member of the First Baptist Church, Philipsburg. She assisted her husband as the adult leaders of the church's youth group throughout the 1960's and 1970's.
Lorraine enjoyed a number of hobbies and activities in her spare time. One of her favorites was to spend "a day out shopping," even if she came home without buying anything. During her younger years, she also enjoyed outdoor activities like fishing and going out rabbit hunting with her family. Lorraine and her husband, Bud, spent many hours photographing nesting birds and then presenting programs to varied civic organizations on the wonder of nature.
A memorial service will be held Friday, September 1, 2017, at 2 PM at the First Baptist Church of Philipsburg with Pastor Ted G. Seibert, Officiating. Light refreshments will be served after the service.
Memorial contributions may be made in Lorraine's memory to the First Baptist Church Memorial Fund, 214 E. Beaver Street, Philipsburg, Pa 16866.
Arrangements are under the direction of the Beezer-Heath Funeral Home, 719 E. Spruce Street, Philipsburg.