Grace A. Frank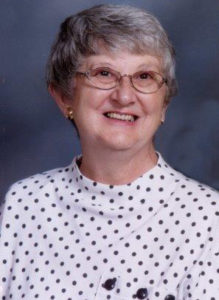 Grace A. Frank, 82, of Philipsburg, died Friday, April 7, 2017, at her residence.
Born November 23, 1934, in Philipsburg, she was a daughter of the late George W. and Anna (Hydock) Johnson.
She was a 1952 graduate of the former Philipsburg High School.
Grace was a member of Ss. Peter & Paul Catholic Church, Philipsburg. She was a devoted Catholic and her strong faith was an important focus throughout her life.
She was retired from General Cigar, formerly of Philipsburg. She was then self-employed for about 15 years as a nanny.
She enjoyed walking and exercising in her spare time.
Grace was married on June 21, 1962, in Philipsburg, to Joseph J. Frank, Sr., who survives of Philipsburg.
She is also survived by two sons, Daniel J. Frank and his wife, Marie, of Philipsburg and Joseph J. Frank, Jr, and his wife Lorrie; five grandchildren, Justin D. and Natasha M. Frank, both of Philipsburg, Blake, Kierstien and Jackson; two sisters, Lucy Kebbel, of Missouri and Claudia Bock and her husband, Walter, of Philipsburg; one brother, Donald Johnson and his wife, Barbara, of Wilkes-Barre; and a number of nieces and nephews.
Grace was preceded in death by her parents; seven sisters: Lillian Maney, Carrie Parada, Mary Perow, Jane Johnson, Bernice Kowalski, Pauline Zelenka and Lena Beranty; one infant brother, Thomas Johnson; and one brother, David Johnson.
A Funeral Mass will be celebrated Tuesday, April 11, 2017, at Noon, at Ss. Peter & Paul Catholic Church, 400 S. 4th. Street, Philipsburg, with Fr. John Gibbons, Celebrant.
Visitation will be on Monday, April 10, 2017, from 6 to 8 pm and on Tuesday from 9 am until 11:30 am at the Beezer-Heath Funeral Home, 719 E. Spruce Street, Philipsburg.
Interment will be in Ss. Peter & Paul Catholic Cemetery, RD Philipsburg.