Helen L. Fox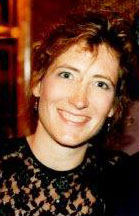 Helen L. Fox, 54, of Philipsburg, died Sunday, October 15, 2017, at her residence.
Helen was born on June 15, 1963, in Philipsburg, a daughter of John W. "Jack" Mackin, whom preceded her in death and Alice M. (Zavalydriga) Mackin, whom survives of Philipsburg.
She was a member of Ss. Peter & Paul Catholic Church and the B.P.O. Elks and Country Club #1173, both of Philipsburg.
Helen was a 1981 graduate of Philipsburg – Osceola Area High School and the 1981 winner of the J. H. Snyder award for academics and athletics.
She furthered her education at Duquesne University, Pittsburgh, where she received her Bachelor of Science Degree in Pharmacy. She was an alumni member of the Duquesne University, School of Pharmacy, Tau Chapter, Lambda Kappa Sigma professional fraternity.
Helen was currently employed as a pharmacist with both the University Health Services Pharmacy, University Park and the Penns Valley Pharmacy, Spring Mills.
Helen was preceded in death by a sister, Carol Mackin McLaughlin, in addition to her father.
She is survived by two daughters, Kristen M. Fox and Kaelie A. Fox, a son, Joseph Hunter Fox, II all of Philipsburg; two brothers, John F. Mackin, DMD and his wife, Joanne P. Mackin, Esq., of Philipsburg and Bruce S. Mackin and his wife, Donna, of State College; and numerous extended family members.
The Funeral Mass will be Celebrated on Friday, October 20, 2017, at 11 am at Ss. Peter & Paul Catholic Church, 400 S. 4th. Street, Philipsburg, with Rev. John Gibbons, Celebrant.
Visitation will be on Thursday, October 19, 2017, from 2 to 4 pm and 6 to 8 pm at the Beezer-Heath Funeral Home, 719 E. Spruce Street, Philipsburg. The Rosary will be recited on Thursday at 3:30 pm at the funeral home.
Interment will be in Ss. Peter & Paul Catholic Cemetery, RD Philipsburg.